Cactus dahlia tubers
Cactus dahlias are the favourite of many gardeners. These are exciting flowers and often have fierce colours. This type of flower stands out among the other dahlias.
Cactus dahlias flower from the end of June until the first night of frost. This is often in October or November. Many other flowers have already stopped flowering by then. So, if you choose for dahlias, you can enjoy your flowers longer.
Cactus dahlias are named after the cactus. This is because the dahlia cactus has rolled-up petals. These look like spines of the cactus. So, they have this name because the dahlias have cactus spines, just like cactuses.
The extraordinary of the cactus dahlia
The dahlia cactus is a very special flower. One of the most extraordinary of the dahlias. The flower petals are for 2/3 rolled up, this gives a remarkable spiky tint.
The petals can be rolled op to the inside or to the outside. This causes the more muddled view. The petals are narrow and spiky, that is because the petals are rolled up. The tops of the dahlia cactus are often deeply incised, this gives an even more extraordinary view.
The special shape of these dahlias ensure that the rain easily flows out the petals. This causes that the top does not get very heavy. Therefore, these dahlias stay upright in the rain while other flowers would subside.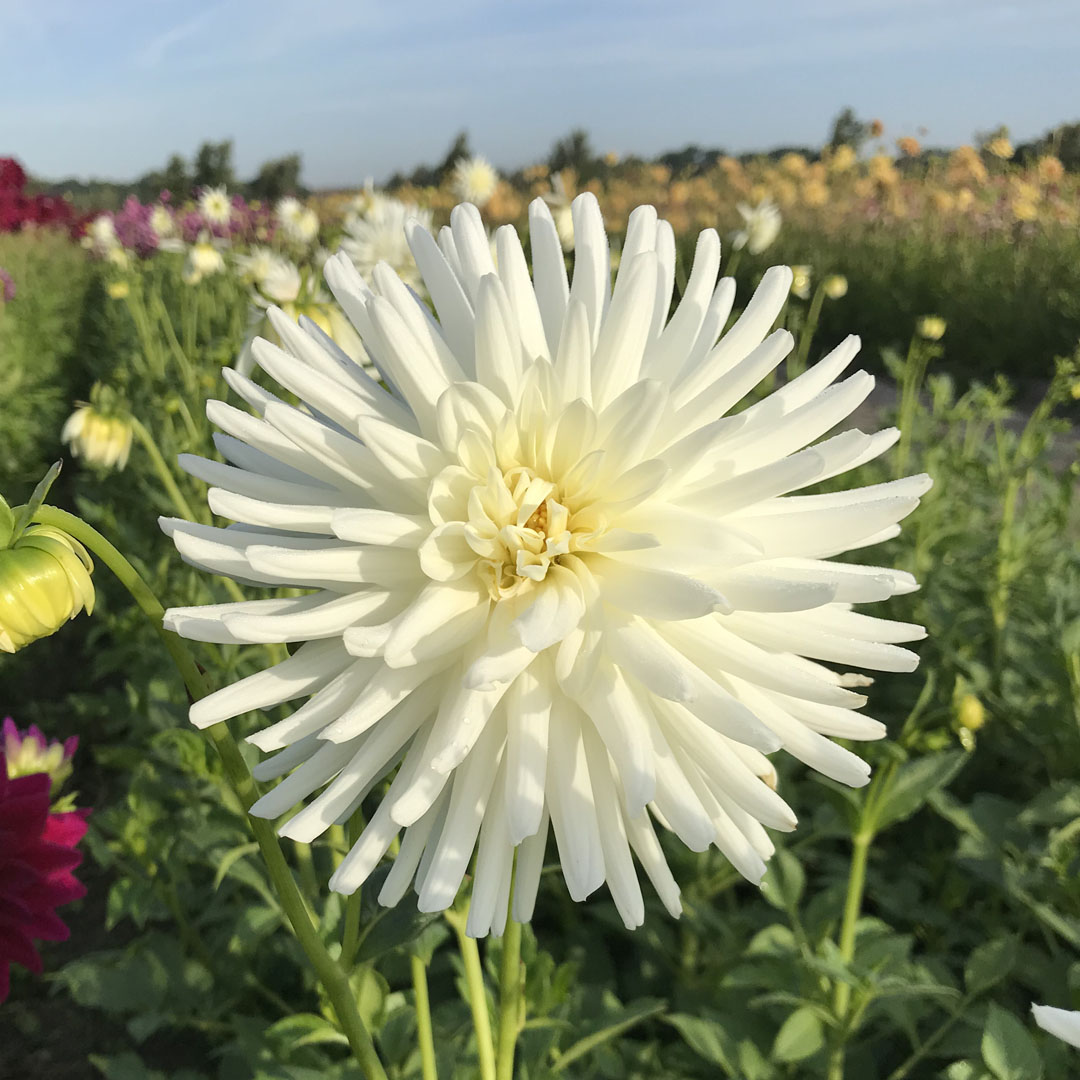 Varieties
Cactus dahlias exist in much different colours, height and size. We have dahlias in a lot of different colours: yellow dahlias, orange dahlias, white dahlias , purple dahlias, pink dahlias and red dahlias.
With the filters on our webshop you can find the dahlia that you like most. They can be filtered on colour, height and size. We have middle and high cactus dahlias and the flower sizes we use are S to XXL.
Combinations
You can combine the different cactus dahlias with each other. This gives a beautiful effect and you can try the most beautiful colour combinations.
A beautiful combination we like is Felida Solar Flare with Cabana Banana. This gives a beautiful pink with yellow mix. It radiates happiness and love.
A combination we also love is a pink dahlia with a red dahlia. This exudes love, passion and grace.
You can also combine the cactus dahlia with other varieties of dahlias. For example, with dinnerplate dahlias or pompon dahlias. This makes a more variable bouquet.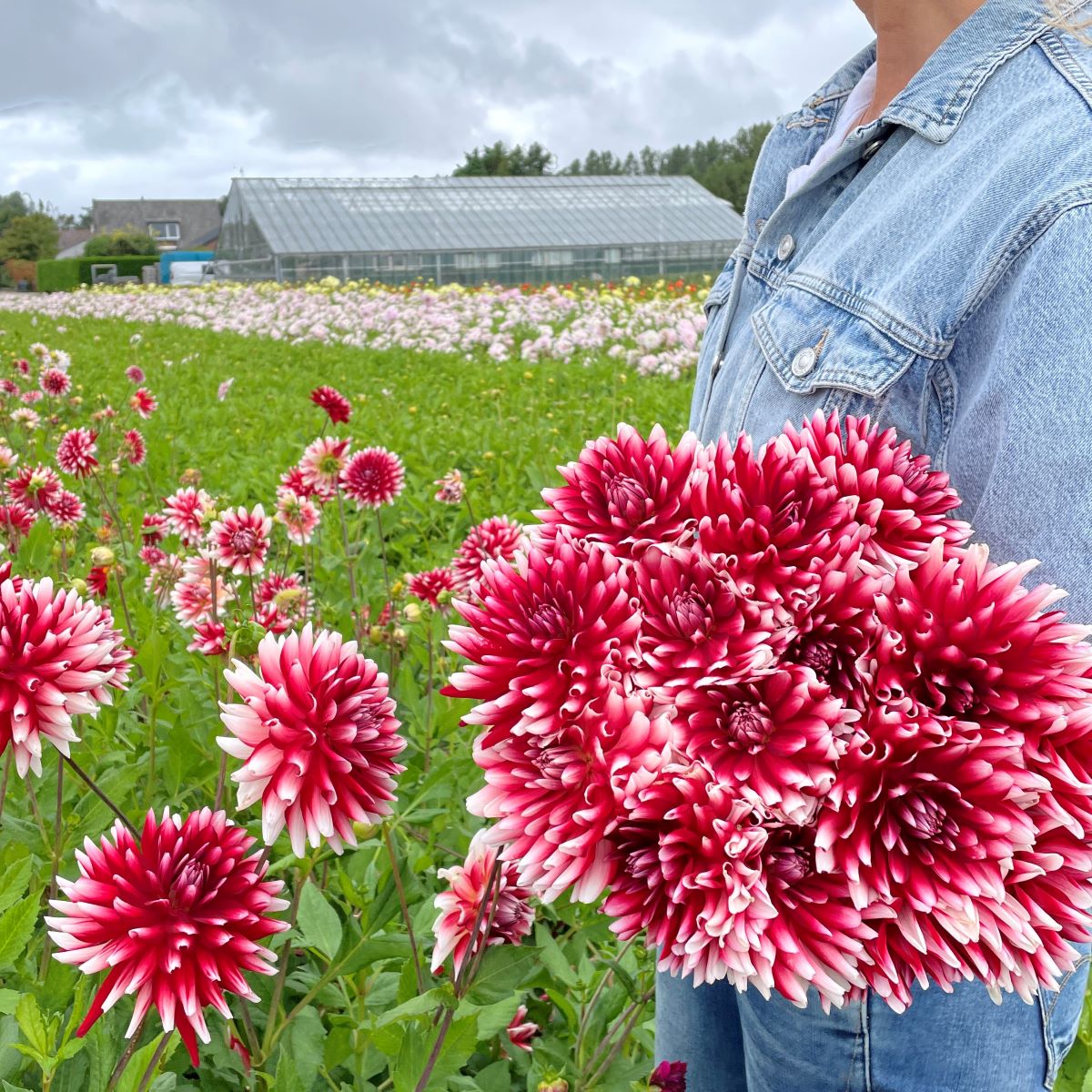 Other combinations
Also combine flower seeds with your dahlias in your garden. This will make your garden even more beautiful. You can choose of different varieties as amaranthus, cosmos, nigella, phlox and more.
In the winter you can also plant daffodils and tulips. These will flower in spring. You can plant white daffodils, yellow daffodils, double daffodils and more varieties. We also have a lot of tulip vaieties on sale, for example, purple tulips, white tulips, orange tulips, double tulips, parrot tulips and many more.
History of cactus dahlias
The dahlia originally comes from Mexico. They were grown so they could be eaten and used as a medicine.
In Mexico it is much warmer than in the Netherlands. For that reason, cactus dahlias love heat. You can best plant the cactus dahlia tubers in a warm spot, where it catches a lot of sunlight. Also plant the tubers after the change of frost is over. The tubers aren't perennial, they can't withstand the cold.
Our story
If you want to know more about our farm, our dahlias or other flowers, follow us on Instagram and Facebook. Here you can find more information about gardening but also a lot of tips about planting and maintaining the dahlias. You can also pin our beautiful pictures of dahlias, tulips and other flowers to you own board on Pinterest.