Double Daffodil
"A double daffodil gives a crowded appearance; they are not to miss in your garden."
What is a double daffodil?
There two types of double daffodils (narcissus). Double daffodils and a multifloral/ multi headed daffodils.
A multifloral daffodil or is a type of daffodil that has two or more blooms on one stem, this gives a special and crowded view. Multifloral daffodils are a popular choice for gardens and floral arrangements. Multifloral daffodils are considered a rare and unique sight, but they can be quite easily grown in your garden.
A double daffodil is a daffodil with two times the petals of a normal daffodil. The flower has one bloom, but they look very crowded because of the many petals. The full appearance of the blooms makes an eye-catching addition to any garden. This page is about the double daffodil.
Why are the double daffodils so popular?
Double daffodils are also much hardier than regular single stemmed varieties, so they can withstand harsher climates or less ideal soil conditions. They come in a variety of colours and sizes, so adding some of these unusual blooms to your garden is sure to add some interest and beauty!
The flower had white, yellow or peachy pink petals. They are also relatively easy to care for, making them a low maintenance option for busy gardeners. Most double daffodils are perfect as cut flowers because they have a long stem, for example the Petit Four or Innovator. You can also plant daffodils in pots to have them inside or potted on your balcony or porch. A late blooming double daffodil is Manly.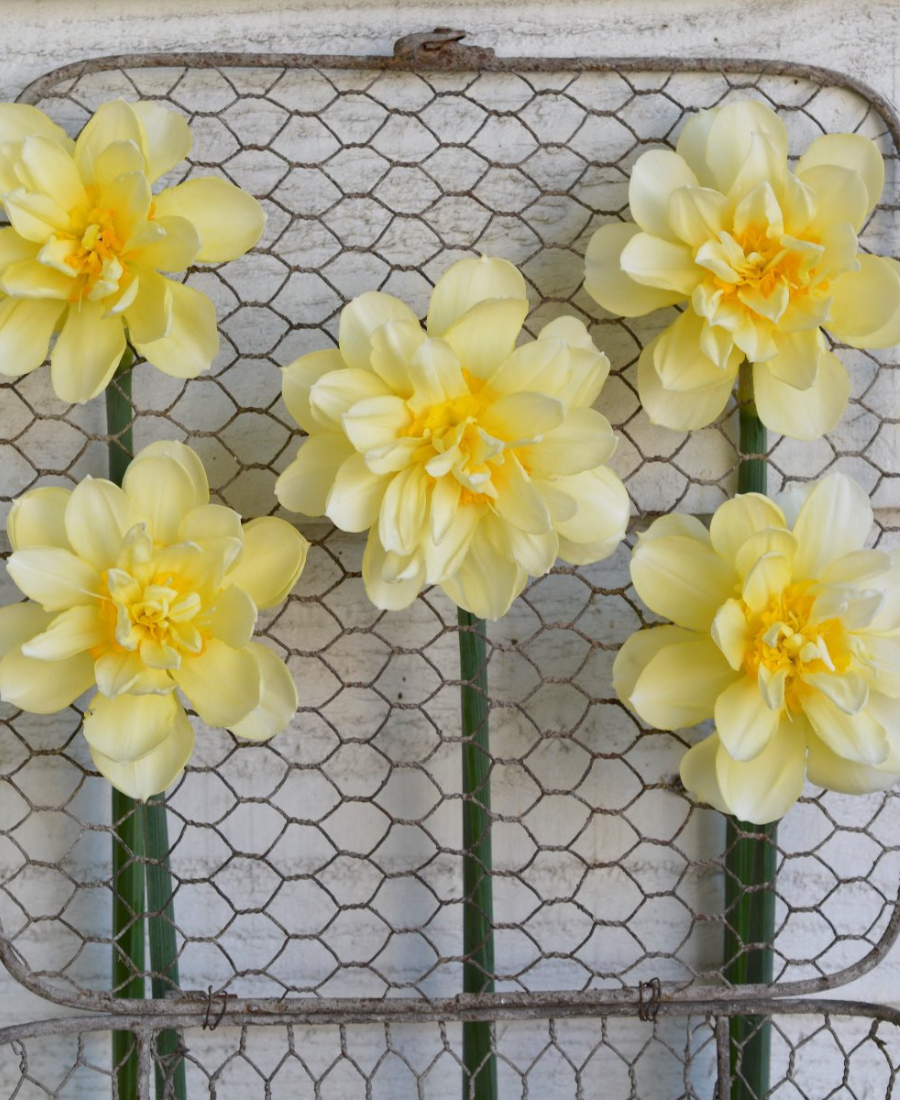 History of the double daffodil
The double daffodil (narcissus) is native to Europe. It was first described by the Greek physician Dioscorides in his book De Materia Medica, which was written in the 1st century AD. The double daffodil is thought to have originated from the wild daffodil (Narcissus pseudonarcissus), which is found in woodlands and meadows across Europe. Double daffodils are also called double narcissus. Narcissus is the Latin name for daffodil.
When to plant daffodils
Plant the daffodil bulbs in October until mid-December. This will give the bulbs enough time to produce roots before the sever frost is coming. The daffodils will bloom in February, March or April and will continue to bloom for several weeks. You can plant white daffodils, yellow daffodils, orange daffodils and pink daffodils.
At the same time as daffodils, you can plant tulip bulbs. The tulips will flower a little later, in April or May. Planting daffodils and tulip at the same time ensures that you have colour in your garden longer. Daffodils have a soft colour, so you can plant more striking colours of the tulips to make your garden outstanding. You can think of red tulips or pink tulips.

Other flowers
After the daffodils and tulips have flowered, plant dahlia tubers and flower seeds. Do this in May or June, or plant them already in pots in March of April. The dahlia tubers will flower around July until the first night of frost, because they cannot withstand the frost. Beautiful colours are white dahlias and pink dahlias, you cannot miss them in your garden. Dinnerplate dahlias and cactus dahlias are very special types of dahlias. They make your garden eye-catching.
Flower seeds can fill up your garden. The most popular types are cosmos flower, amaranth, phlox and zinnia. The flower seeds will flower around June until September and all our flower seeds are annual.
Caring of double daffodils
Double daffodils are also relatively easy to care for, and they will naturalize over time if left undisturbed. Give the daffodil bulbs a sunny spot. With more sun they grow better. Give the double daffodils enough water, but don't drown them. Make sure the soil is well-drained.
Follow our story
Follow our story on Instagram and Facebook, here you find beautiful pictures of our flowers and the farm. On Pinterest you can pin our pictures to your own board, then you create a board with your favourite photos.