White daffodils
"Buy white daffodils, they have something fairy-like about them. Sent straight home from our farm."
There is something magical about white daffodils, they look like they come from a fairy tale. Especially the double-flowered daffodil Bridal Crown with its fresh-white colour. It is not one of the most popular daffodils for nothing! But why does white appeal so much?
Why are white daffodils so popular?
White is considered the colour of perfection; white is also associated with light, goodness, and purity. For this reason, brides wear a white dress when they get married. White is the only colour that does not stimulate our senses, but it opens the way for new creations. In fact, all painters start with a white canvas.
White daffodils appeal so much because they are elegant and timeless. You never get tired of white, as it is always right. Moreover, the combination possibilities are endless. You can use it to make bouquets that are bold and brilliant, but also bouquets that are soft and modest. A white daffodil combines beautifully with a pink tulip, for example Marriage.
Besides, daffodils are very easy and rewarding spring bloomers that, just like perennials, come back every year by themselves. Give them a sunny spot and you can enjoy them again every spring. The flowering of daffodils is often one of the first signs of spring. The lovely fragrance of these daffodils adds an extra dimension to your garden. You will soon automatically smell spring. Plant the daffodil bulbs by variety or mixed for a playful effect. The newly awakening bees and butterflies will surely find your garden! The early spring blooms are one of the first sources of food for wild bees and butterflies.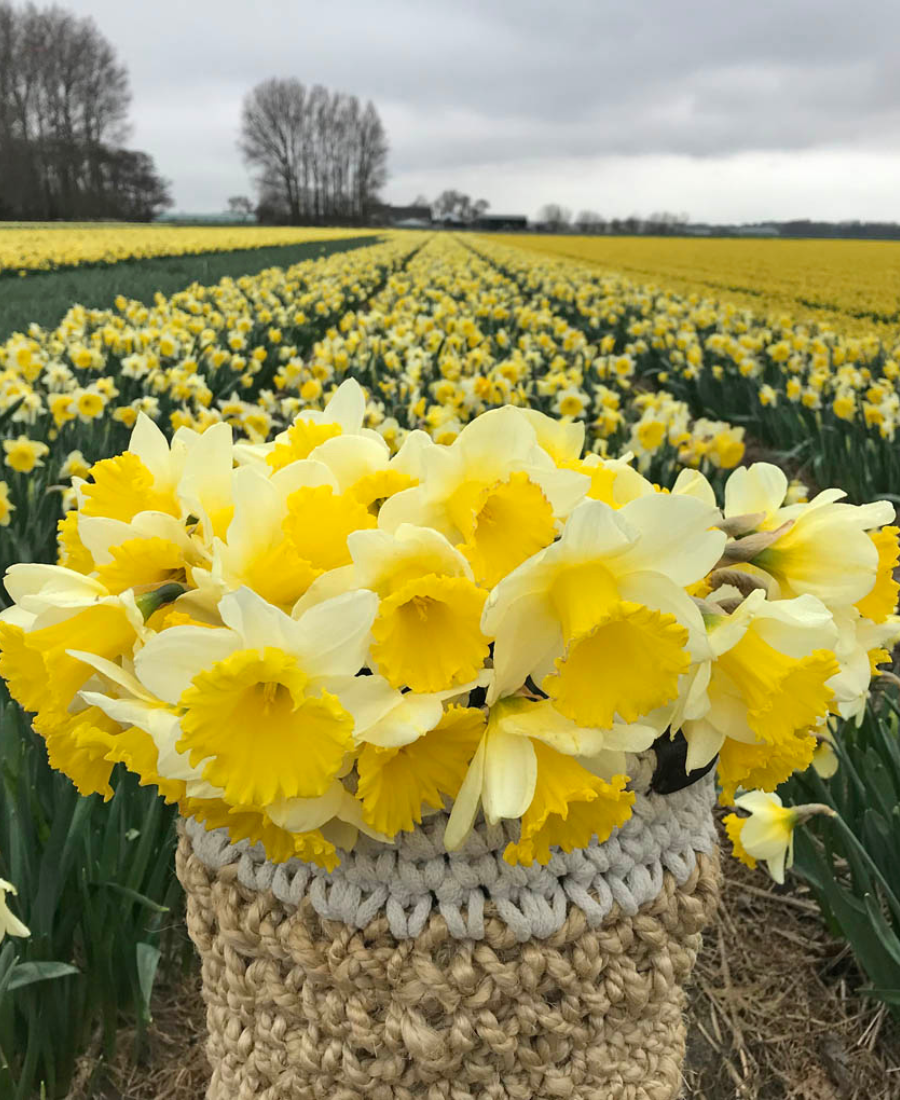 Shapes and colours
Daffodils come in all kinds of different shapes and colours. Namely the typical yellow daffodils that symbolise the beginning of spring. But we also have cream-coloured daffodils, pink daffodils, and orange trumpet daffodils. Beautiful double daffodils and multi headed daffodils are also available. The single daffodils are very popular butterfly and bee plants. Finally, there are also several special daffodils. White daffodils are also called white narcissus. Narcissus is the Latin word for daffodil.
Ordering daffodil bulbs
It is very easy to order white narcissus or daffodils online with us. We deliver them by post to your door as soon as it is time to plant the daffodil bulbs (from October to mid-December). Our flower webshop not only contains daffodil bulbs, but also tulip bulbs, dahlia bulbs and flower seeds. These spring and summer bloomers are the most popular flower bulbs and tubers for the garden. Also check out our flower bulb packages and flower bulb offers. You can choose different shapes and colours. For example double tulips, red tulips, yellow tulips, but also dinnerplate dahlias, cactus dahlias, orange dahlias and amaranth, cosmos, phlox and more flower bulbs and seeds.
When to buy daffodil bulbs?
Our daffodil bulbs are for sale from 1 July until 1 December at FAM Flower Farm. All daffodil bulbs are grown in our nursery in Lisse, the Netherlands.
Planting daffodil bulbs
Daffodil bulbs first need cold temperatures to flower. So, plant the bulbs in autumn in the months of October, November or December. Please note that daffodils cannot withstand severe frost, so do not plant them too late (after 15 December). You will receive a large-sized bulb so you can expect full daffodils. Daffodils bloom in spring, sniff out spring!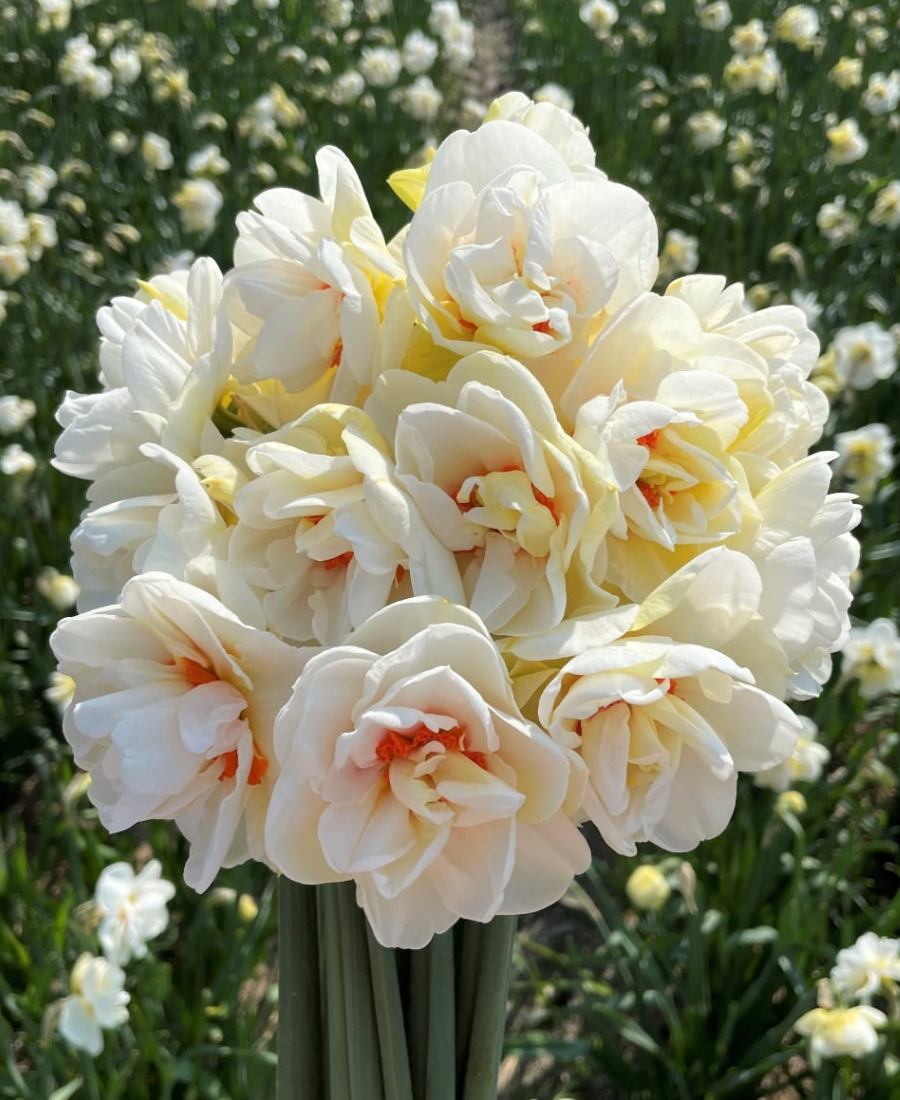 Daffodils flowering time
White daffodils or white narcissus are in bloom from March to April. Tourists from all over the world and at home travel to the world-famous flower fields in Lisse. But why travel all the way to Lisse when you can make the daffodils bloom in your own garden.
Daffodil care
Daffodil bulbs are easy to care for, but they need little care. If it is dry, give water regularly. The white daffodil is a perennial bulbous plant, so next year you will have daffodil flowers again. It is therefore very important to take proper care of daffodil bulbs after they have finished flowering. For spent flowers, you can cut away the flower stems, leaving the foliage. It is important that you give the foliage of the daffodil bulbs time to turn yellow. This is best for the daffodil bulb.
It allows the bulb to still get enough nutrients from the foliage for next year. When the foliage is completely yellow, you can cut away the foliage. In winter, you can simply leave the daffodil bulbs in the ground, possibly covering them with some leaves from the garden. Some daffodil varieties stay low and produce small flowers, while others are longer and produce very large flowers. Most daffodil bulbs produce several flowers with a lovely fragrance. Real enjoyment.
Follow the story of our nursery
If you follow us on Instagram or Facebook, you can follow the story of our daffodil bulbs, our nursery and the seasons. We also give gardening tips and highlight special varieties. On Pinterest, you can easily view the pictures of our flowers and farm. You can pin them to your own board.