Orange dahlia tubers
"Orange dahlias in your garden bring sunshine and success. They are a big addition to your beautiful garden."
The colour orange
When it comes to the color orange, there are a few different things that it can symbolize. The colour orange is said to represent joy, happiness, and creativity. It is also associated with success, encouragement and enthusiasm. Orange dahlias symbolize strength and determination.
Orange dahlias are not to miss in your own garden. They are a real addition to your garden or as cut flowers in your house.
How to combine orange dahlias?
Orange dahlias are occasionally used for a wedding. They are beautiful together with light purple dahlias or white dahlias and yellow dahlias. This gives a low contrast and is perfect for a wedding day or a celebration.
Red is also a lovely colour to combine with orange. This gives a beautiful low contrast. Red dahlias combined with orange dahlias exude love and warmth but also joy and enthusiasm.
You can also combine different dahlias shapes as a dinnerplate dahlia, cactus dahlia or pompon dahlia. These togheter wil look stunning.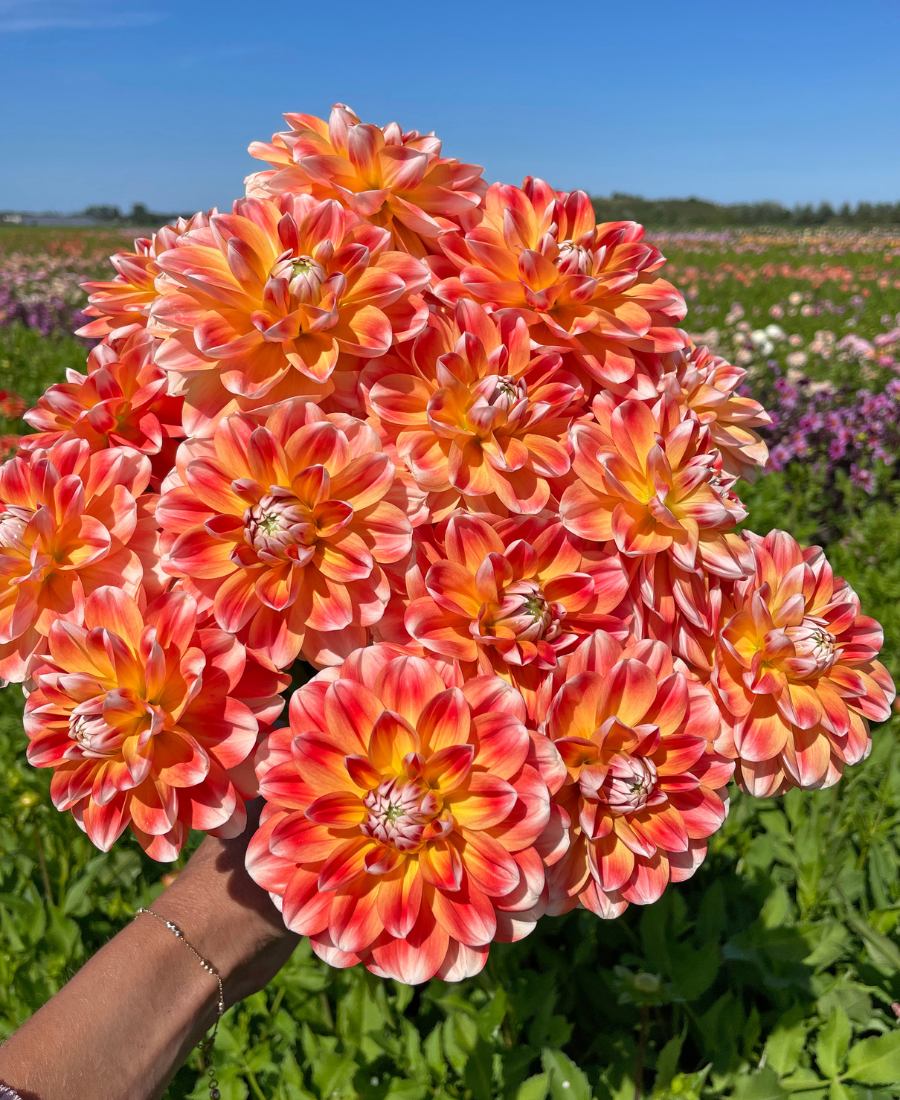 When to plant the orange dahlias?
You can buy orange dahlias 1 January until 1 June. Your order wil then be delivered around the time when you can plant the dahlias. The dahlias can best be planted between April and the begin of June. Around this time, the chance of frost is passed, so the dahlias will not suffer from the cold.
Together with dahlias, you can plant flower seeds. You can choose from different varietie and make you garden a party. You can choose from the cosmos flower, amaranth, phlox and many more.
When do orange dahlias flower?
When you have planted the orange dahlias in April-June, they will flower in July/August until the first night of frost. Dahlia tubers are not hardy. When it is getting colder and there is a chance of frost, you should take out the dahlia tubers and store them in a cool and dry place.
Delivery of the dahlias
Our dahlia tubers come straight from our own farm. When you order, you can choose if when you want to receive your order. You can choose from March until May. With each order you get a well explained instruction on how to plant the tubers and how to take care of them.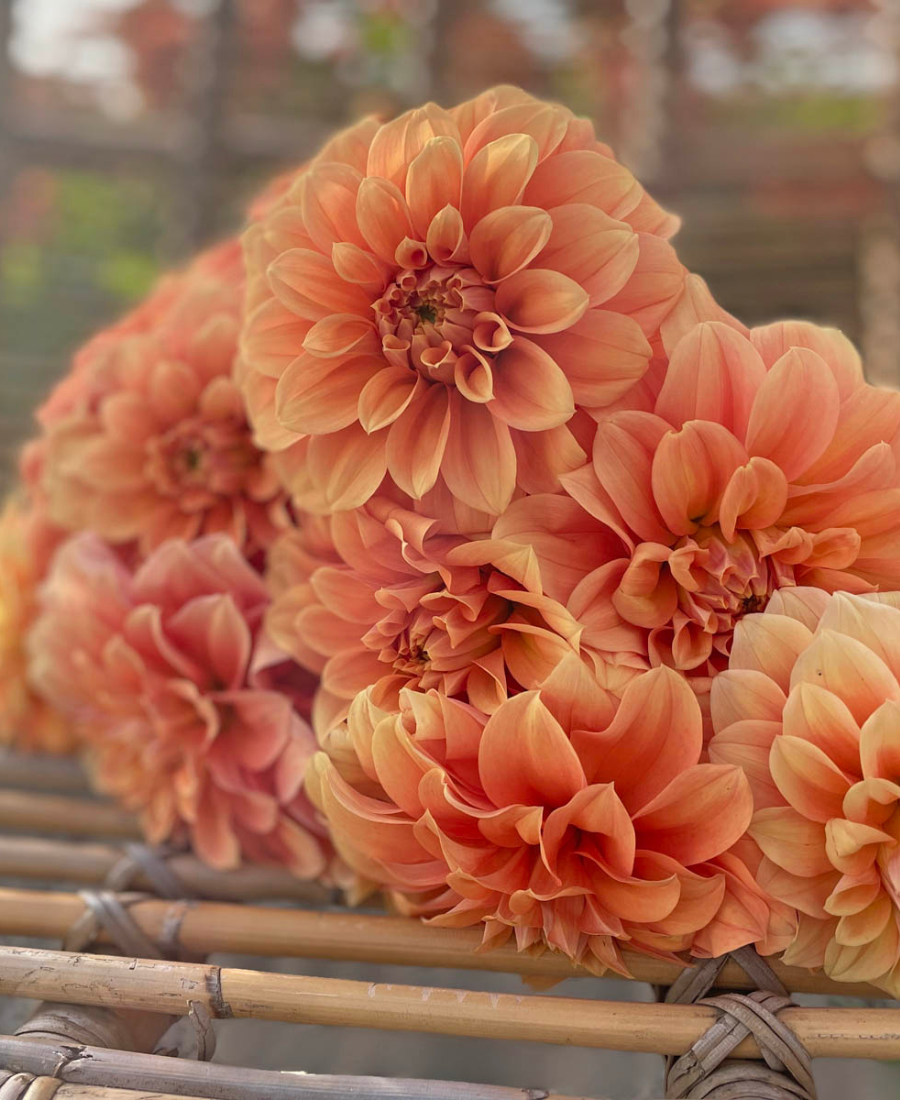 Other flower at FAM Flower Farm
Besides dahlias, we also sell flower seeds, daffodils and tulips. With these flowers you can enjoy your garden in the spring and the summer. We sell yellow daffodils, white daffodils, pink daffodils, double daffodils and multi headed daffodils.
We also have a lot of different varieties of tulips. We have a lot of colours as white tulips, pink tulips, orange tulips but we also have different shapes. We have double tulips, parrot tulips, peony tulips and more.
Follow us to see our story
You can follow the story about our dahlia tubers and our Flower Farm on Instagram or Facebook at FAM Flower Farm. Here you can see what we do and you can take a look at our farm. We also give some handy tips here. Besides you can pin our beautiful pictures of our flowers to your own board on Pinterest.