Yellow dahlia tubers
"Yellow dahlias in your garden are a must. It exudes joy and happiness."
A yellow dahlia exudes a cheerful feeling. It is perfect to cheer up your border and give your garden a fresh and happy appearance. You cannot miss this dahlia in your garden.
The addition of yellow dahlias
Yellow gives a happy, cheerful feeling. Yellow dahlias are perfect to give as a present when you want to brighten anyone up or for other joyful events. Besides it is warming, it gives joy, happiness and simply a lovely colour.
Combination
Yellow dahlias are beautiful to combine with pink dahlias or purple dahlias. This will give a magnificent contrast. Think of the dahlias Pink Magic and El Paso.

To combine the yellow dahlias with a lower contrast, use red dahlias or orange dahlias for a lovely bouquet. Big dinnerplate dahlias, pompon dahlias an cactus dahlias are also a popular choice. If you want to make a bouquet or set the dhlias in a ase, make sure they are cut flowers.
Besides the yellow dahliaflowers are great to blend with other type of dahlias and even with other flowers, like orange annuals grown from flower seeds. You can think of the beautiful Zinnia Elegans Queeny Lime Orange.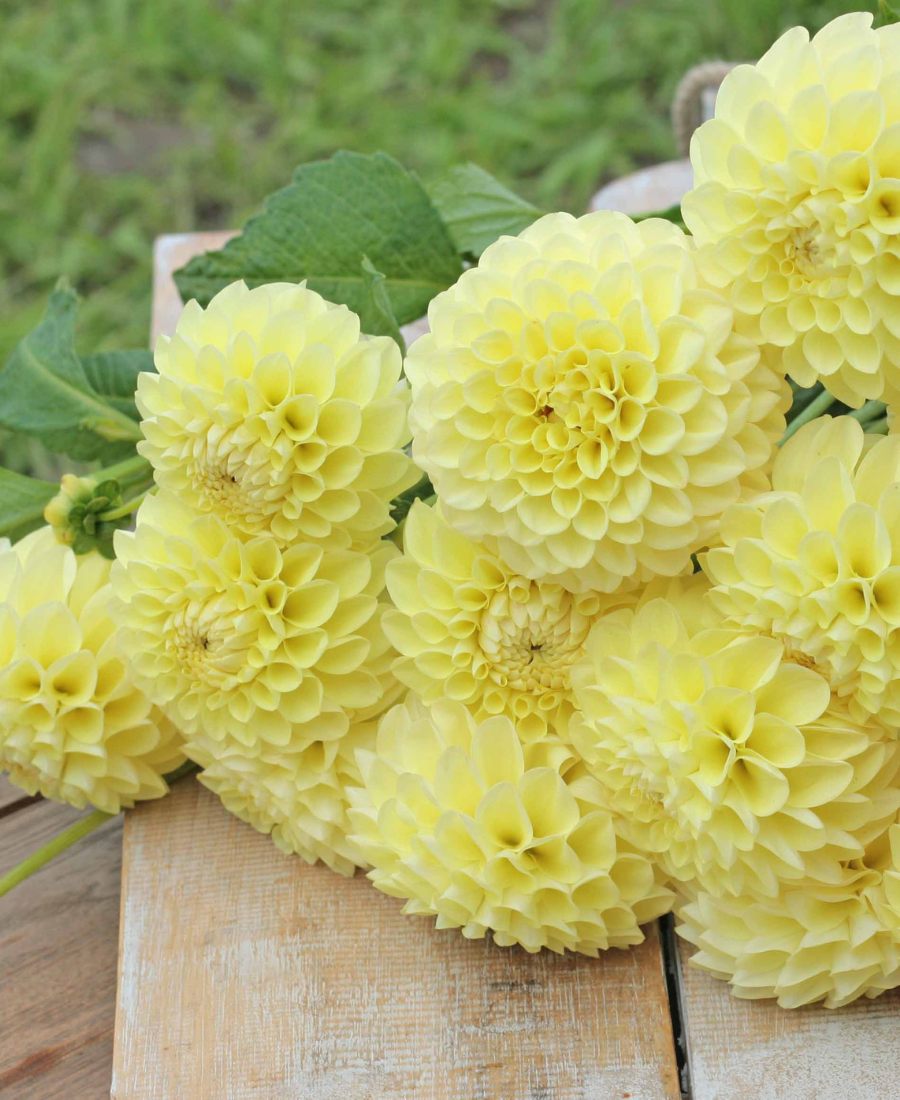 Ordering
Our yellow dahlias can be ordered on our webshop from January 1 to June 1. During ordering you can select if you want them to receive in March, April or May. On this way you can choose to plant the tubers first in pots or later right in your garden.
You receive a magazine with instructions on planting the yellow dahlia flowers with every order. Here we explain the steps you must take by planting the dahlias.
Your order is sent straight away from our own farm. Here we have more than 120 different varieties of dahlias. Different height, length, shape and colour. With the filters on our webshop you can choose your favourite type.
Planting dahlias
Dahlias originated in Mexico, therefore they love full sun. Any type of soil can be used to plant dahlias. The only requirement is that the soil needs to be well-drained and not too dry. Take care of them and keep an eye on the drought.
The perfect depth to pant the tuber is approximately 2 cm below the surface. In the matter the tuber feels the warmth of the shining sun.
The tuber must be planted when the risk of the frost has passed, that is around mid-May until mid-June. The first night of frost, likely in October of November, ensures that they stop flowering.
Caring for yellow dahlias
The dahlia tubers need water when it is dry. If you want your tubers to produce more flowers, you can top your plant. Do so by cutting some flowers and leaves. This will result in a trimmed plant that will grow stronger and have more beautiful flowers.
Support taller dahlias, so they remain strong in hard winds. If you forget to do that, the dahlias can be blown over.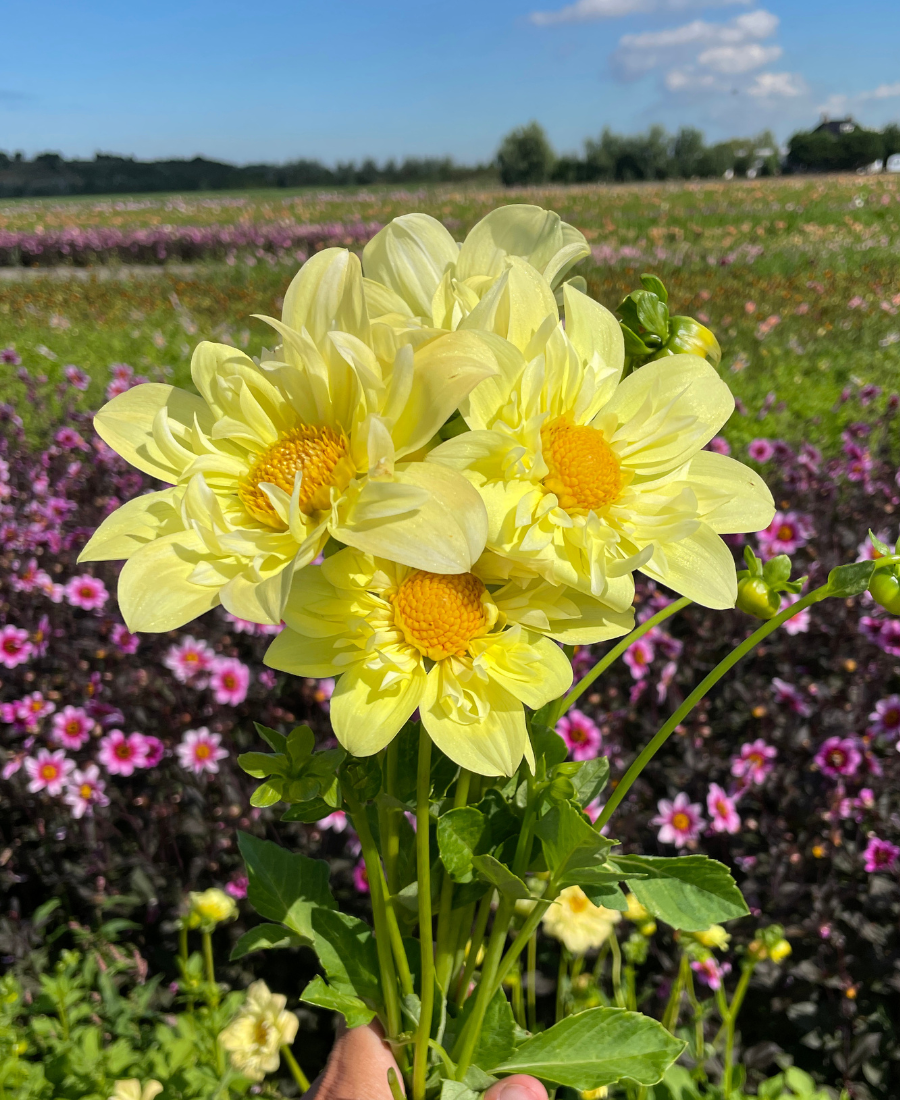 Other flowers
In our webshop we also sell flower seeds, narcissus and tulip bulbs. The narcissus en tulips will bring the spring to you garden. We have a lot of different varieties. We have, for example, white narcissus, yellow narcissus and double narcissus. Of tulips we have red tulips, pink tulips, double tulips, peony tulips and more.
Follow the story of our Farm
If you follow us on Instagram or Facebook you can follow the story about our dahlia tubers, our Flower Farm and the seasons. Enjoy the beautiful flower fields. We also give useful gardening tips and we explain special varieties. On Pinterest you can easily view all the beautiful dahlia pictures and pin them on your own board.