Red dahlia tubers
"You give your garden a beautiful colour contrast with red dahlias from our own farm."
Red draws attention, it is an eye-catching colour and anything but calming.
Red increases your heart rate and blood pressure. It also evokes strong feelings like fury, passion and love. Therefore red is called the colour of love. It is associated with joy, love, heat, passion and sexuality.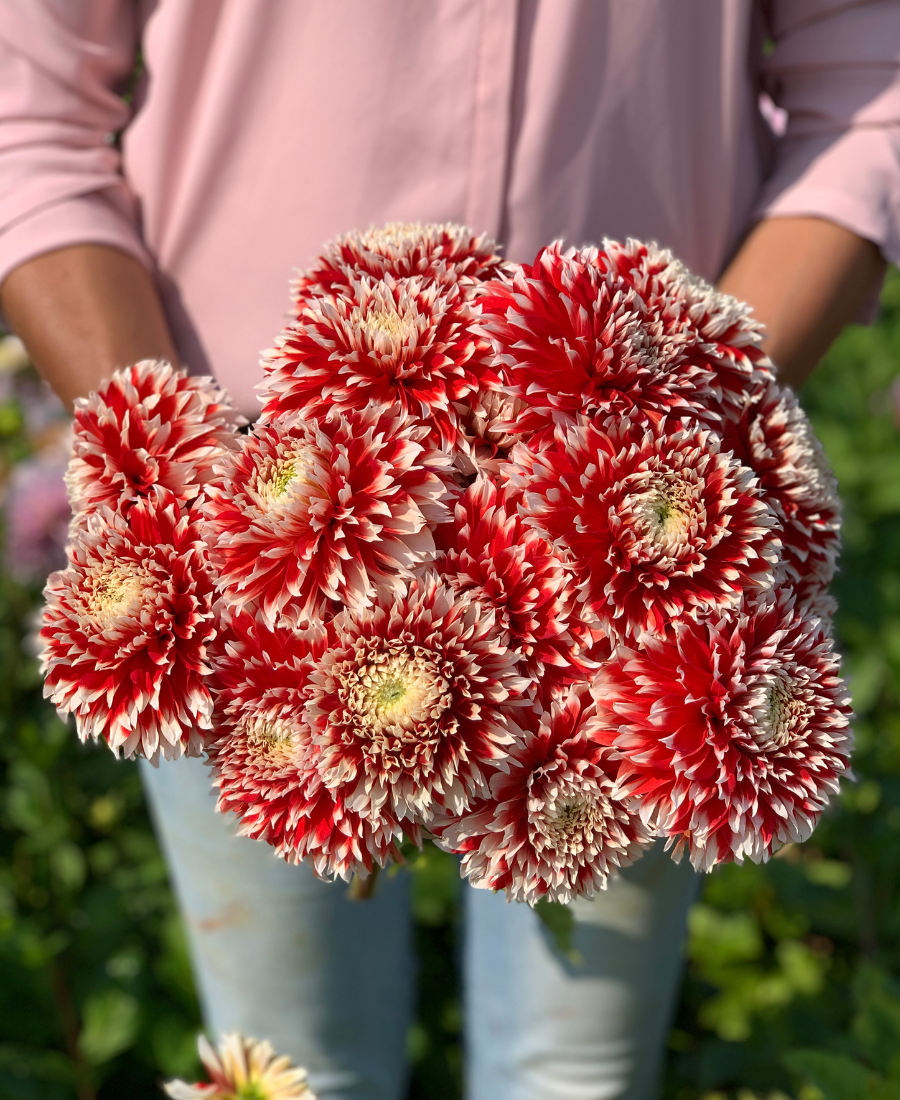 The unique thing of the red dahlia
Insects can't see the colour red. As a consequence, flowers adapted their colour across time so they can be recognized by bees and butterflies. Entire red dahlia flowers are therefore less suitable for a bee and butterfly garden, then they won't be found.
Meaning of red dahlias
The red dahlia flower symbolizes power. A dahlia red is perfect to give as a get well present or if a new milestone is reached.
Besides the beautiful significance is the dahlia red simply a lovely flower and has a warm colour. In all gardens belong warm colours, therefore red dahlias are essential in your garden.
Tip: Also plant some red cut flowers for at a romantic dinner. That will save you another ride to the florist.
Types of red dahlias
A red dahlia gives a beautiful colour contrast in every border. They are real attention getters that brings fireworks to your garden.
There are different types of dahlias, such as the dark red dahlia Jowey Mirella. This lovely ball-dahlia has a remarkable red colour. The most popular red dahlia is the Frost Nip, a real queen in your garden. She matches perfectly with pink, but also with pastel and orange colours.
Combinations
Dahlias red are wonderful to combine with white dahlias for a big contrast. A combination with orange dahlias and pink dahlias is also wonderful, for a lower contrast. You can also combine different varieties of dahlias or other types of flowers like red tulips.
Also the combination with flower seeds is very popular. Flower seeds bloom around the same time as dahlias. Beautiful varieties are the cosmos, nigella and scabiosa.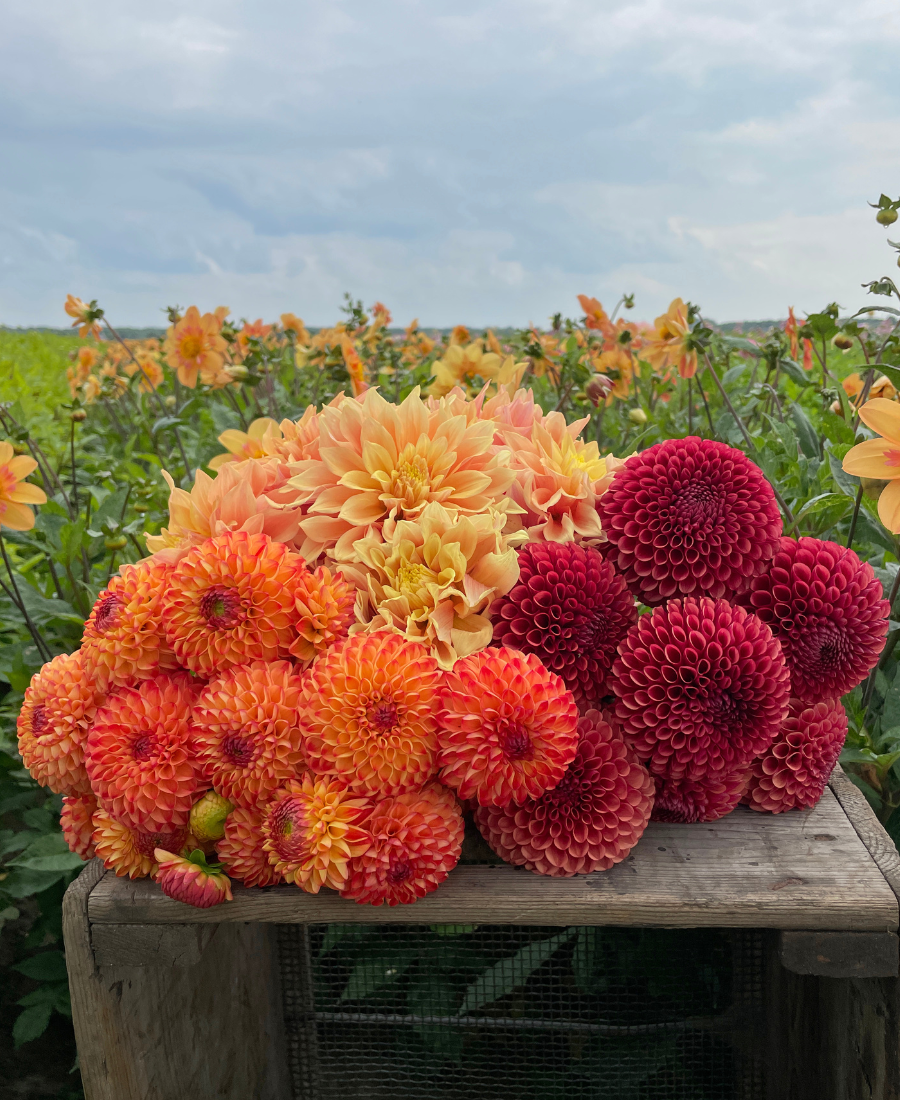 Order red dahlia tubers
Red dahlias are on sale from January 1 to June 1 at FAM Flower Farm. All dahlia tubers come from our own nursery, where we grow more than 100 different varieties of dahlias. You can easily order them through our webshop and they will be delivered to your home by post. In addition, you will receive our magazine with planting instructions, useful tips and inspiration with every order.
At the checkout, you can choose when you want to receive the tubers. If you want to pre-pot and propagate them, you can receive them as early as April. Then they will flower earlier and the snails will have less chance to eat your fresh plants. Besides you can choose May, so you can plant them in your garden straight away.
Planting red dahlia tubers
Dahlias grow best in full sun. This is probably because the flower originated in Mexico. Dahlias can grow in almost any type of soil. It is, however, important that the soil is never too wet or too dry.
Plant the tubers in spring, when it is no longer freezing. This is usually from mid-May onwards. Plant the tuber about 2 cm deep so that the tuber catches heat easily and will flower from July until the first night frost in October or November.
You can also plant dahlias in pots. For this, shorter varieties of dahlias are perfect. Single flower dahlias with an open heart are real butterfly and bee attractors.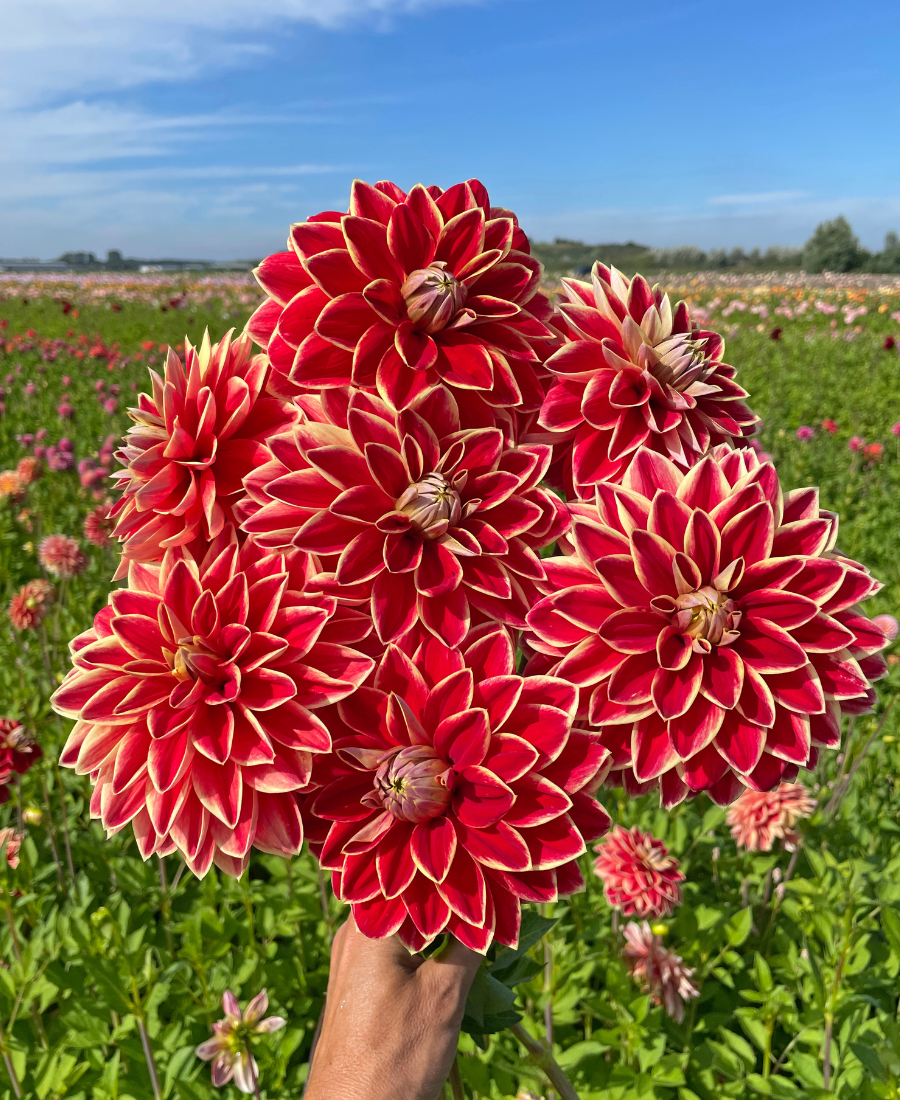 Caring for dahlias
Dahlias are not difficult to care for. They need at most regular watering when it is dry. Support taller dahlias against strong winds or top them to keep them lower.
In autumn, when the dahlias have finished flowering, the dahlias should be taken out of the ground. This because, unfortunately, hardy dahlias do not exist. Dahlia tubers can only stay in the ground if it's a warm winter.
Follow the story of our family farm
If you follow us on Instagram or Facebook at FAM Flower Farm, you can follow the story of our dahlia bulbs, our nursery and the seasons. Enjoy the beautiful Dutch flower fields. We also give handy gardening tips and highlight special varieties. On Pinterest, you can easily view all our beautiful tulip photos om and pin them to your own board.