White dahlia tubers
"Buy white dahlias and make the back of your border more special. Sent straight home from our farm."
A white dahlia flower is dazzlingly beautiful, looking like they come from a fairy tale. The white flowers immediately draw attention and admiration in the border. So ideal if you want to add something special to the back of the garden border.
Why are white dahlias so popular?
White flowers exude tranquillity and symbolise freedom. It is also timeless with endless combination possibilities. It draws attention and is very appreciated by people.
The dahlia Cafe au Lait, is the most popular flower in our range for a good reason. White dahlias are often used in bridal bouquets, as white is associated with light, goodness and purity. You can make big bold bouquets out of them, but also bouquets that are soft and modest. You can combine them beautifully with pastel colours, such as the orange-red dahlia Frost Nip.
Dahlias are great summer bloomers. They are tuberous perennials. They are perennial, some people have had the same tubers for 30 years every year.
From 1 dahlia tuber grows 1 large plant that blooms for months and gives as many as dozens of flowers. The more flowers you cut from the plant, the more new buds will bloom again.
Faded flowers can be cut away. Or you can cut fresh flowers for in the house or on the garden table. So you can enjoy them twice as much.
Combination possibilities
Dahlias have all kinds of different shapes and colours.
There are different types in all kinds of shapes and colours. Such as: the pompon dahlia, ball dahlia, dinnerplate dahlias, double-flowered, single flowered, decorative and cactus dahlia. Pink dahlias and red dahlias are very popular colours.
Dahlia tubers are also called dahlia bulbs. Choose your favourite varieties with the filters on our webshop. Lower varieties are perfect for pots. Higher varieties are ideal cut flowers for cutting gardens because of their long stems with many beautiful flowers.
Some dahlias are real butterfly and bee attractors, these are the single-flowered dahlias with an open heart.
Tip: Plant soms flower seeds at the same time as dahlias, this nicely fills the empty ground. Beautiful varieties of our flower seeds are: cosmos flower, delphinium, aster, phlox and zinnia.
Ordering white dahlia tubers
Dahlia tubers can easily be ordered on our webshop. We have a range with more than 100 different varieties. We deliver them by post to your home at the time you choose.
Also included with every order is our magazine. The magazine contains planting instructions and all kinds of useful tips and inspiration.
At checkout, you can choose when you want to receive the tubers. If you want to pre-pot and propagate them, you can receive them as early as March. Then they will flower earlier and the snails will have less chance to eat your fresh plants. You can also choose May, so you can plant them outside in the garden straight away.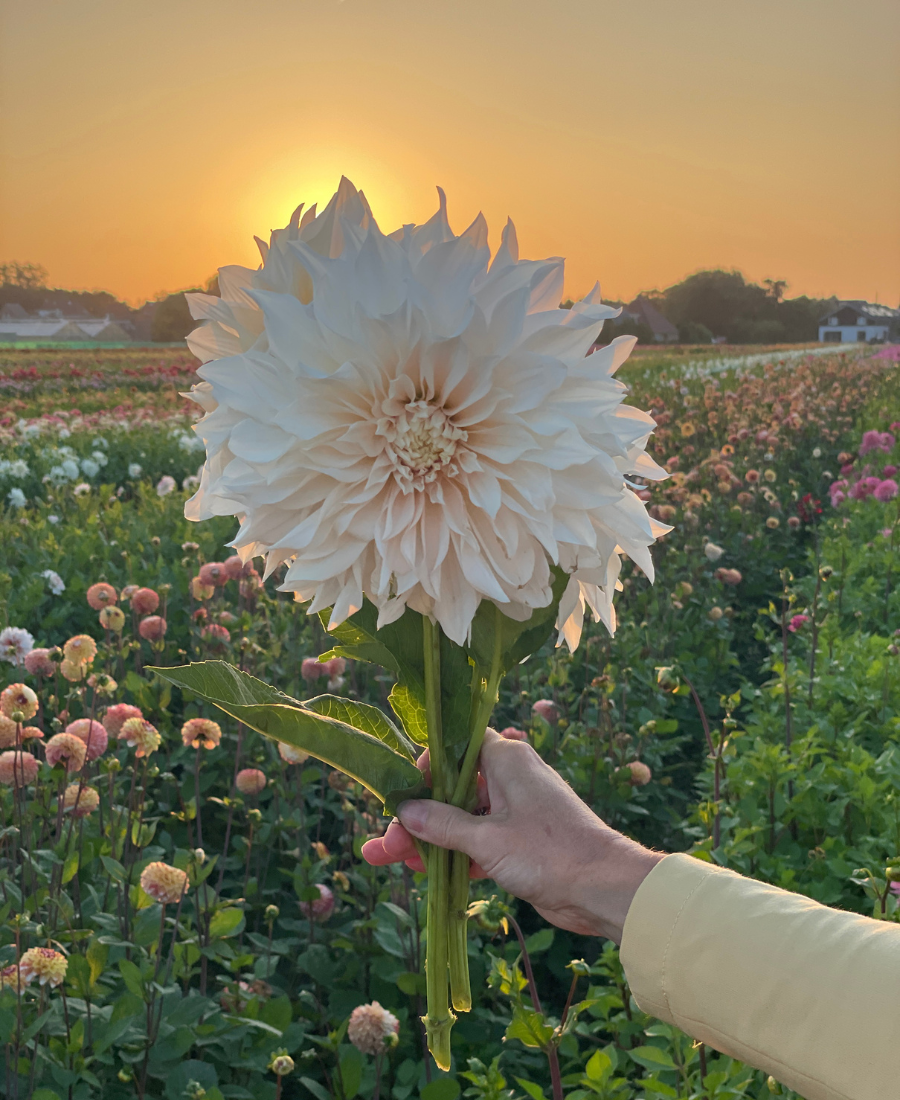 When to buy white dahlia tubers?
All our dahlia tubers are on sale from January 1 to June 1, the tubers are on sale at FAM Flower Farm.
When to plant the tubers?
Dahlias are great summer bloomers native to Mexico. They love full sun. The tubers will grow in almost any type of soil. The soil just needs to be well-drained and especially not too dry.
Plant the tuber about 2 cm below the surface. This allows the tuber to feel the warmth of the sun. The ideal planting time is in spring when the risk of frost has passed. So from mid-May or until mid-June at the latest. They flower from July until the first night frost in October or November.
Also plant some tulip bulbs and daffodil bulbs in October of Novermber, then you will have flowers already around March or April. We sell them in ifferent colour and shpes. You can plant white tulips, red tulips, pink tulips, orange tulip and more. At the same time you can plant white daffodils, yellow daffodils, orange daffodils and pink daffodils.
Care of white dahlias
The tubers need little care. If the soil is dry, water regularly. Taller dahlias should be supported so that they remain firm in strong winds. One option is to keep the plant lower, by topping it. This will make the plant wider and produce more flowers.
Unfortunately, hardy dahlias do not exist. The tubers in the ground can reasonably survive a warm winter. But in a harsh winter, many tubers will not survive the temperatures. If you want to keep them, they must be taken out of the ground before frost.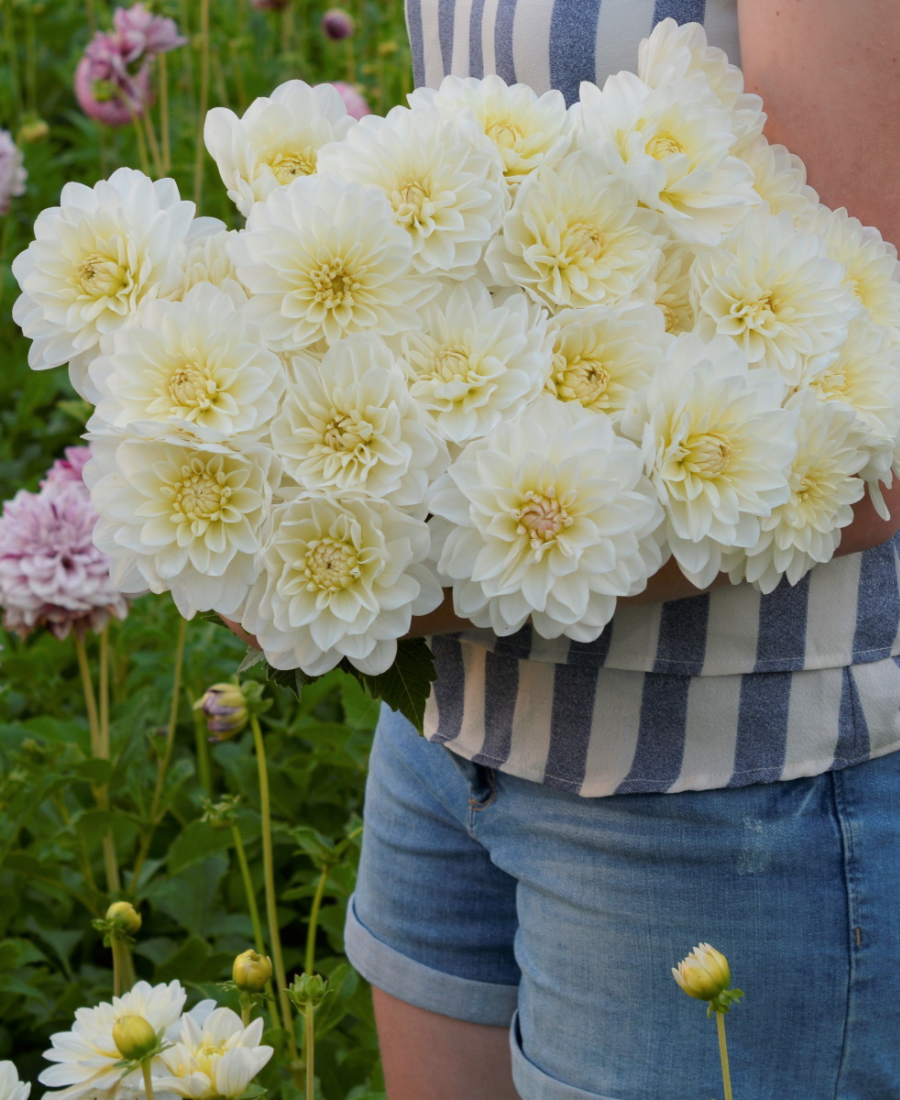 Follow the story of our family farm
If you follow us on Instagram or Facebook at FAM Flower Farm you can follow the story about our dahlia tubers, our nursery and the seasons. Enjoy the beautiful Dutch flower fields. We also give useful gardening tips and highlight special varieties. On Pinterest, you can view all the beautiful tulip pictures and pin them to your own board.