About the aster flower
Aster flowers are beautiful flowers to add to your garden this season. It is a stunning addition to any landscape. The flower has an aesthetic appeal, interesting symbolic value, and practical uses.
History of the aster flower
Aster flowers have been used in many different ways. The name aster comes from the Greek word for "star". This name fits by the flower because the aster flower has a resemblance with a star.
Asters are also known for their symbol of love and faithfulness. They are also associated with patience, daintiness, and courage. In some cultures, they believed that the flower has magical powers, and they are used in spells and charms.
In ancient Rome, aster flowers were used in religious ceremonies and as gifts to the gods. People also thought that the flower would bring luck.
These days, the asters are still popular for their beauty and symbolism. They are often given as gifts for birthdays, weddings, or other special occasions. Thy really add a touch of elegance and beauty.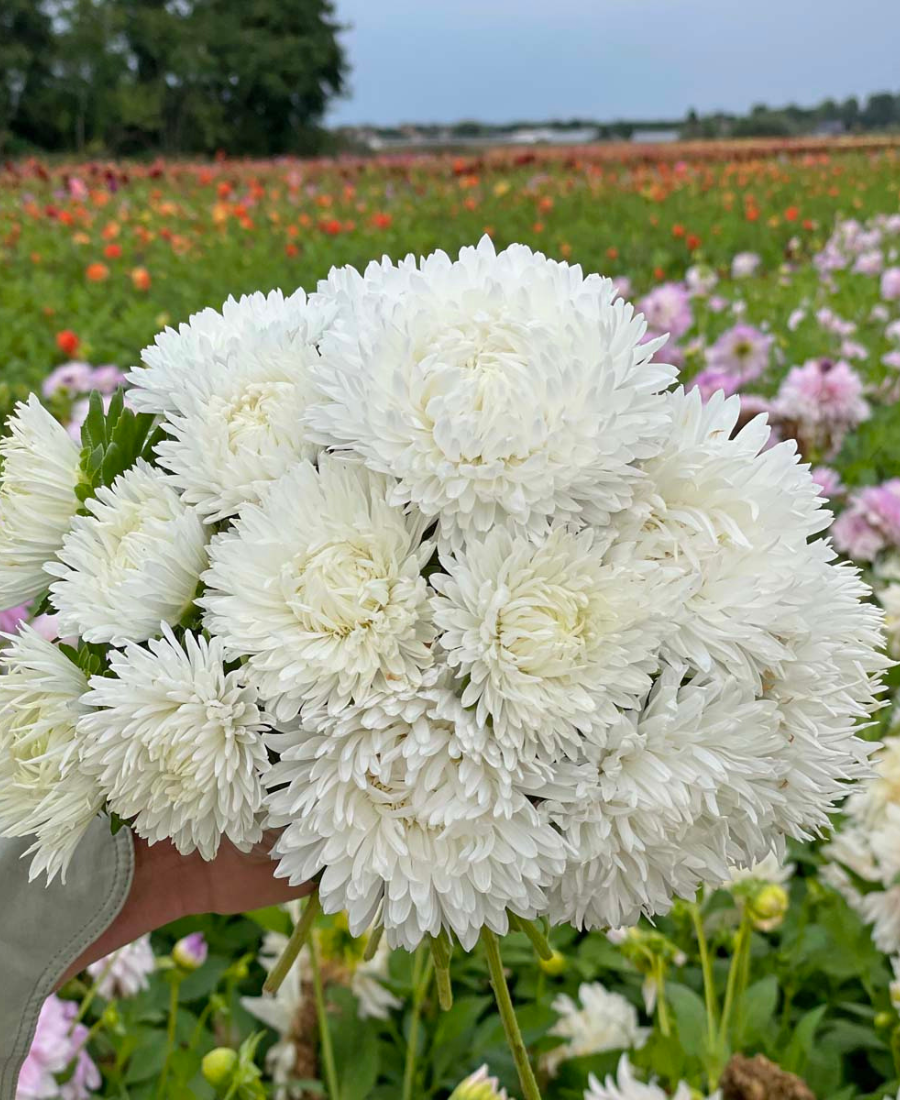 When to plant the aster?
The aster flowers love full sun and well-drained soil. You can plant the flower seeds best in spring after the chance of frost is over, this is around April or May.
How to plant the aster flower?
Hoe the top layer of the soil. This loosens the soil. Then make 2 or 3 shallow drills about 0,5 cm (0,2 inches) deep. Make sure to have around 25 cm (10 inches) between the drills. After that, you can plat the aster seeds and backfill the drills with soil. Make sure that you moisten the soil before planting the aster seeds. Sow the aster seeds about 1 or 2 cm (0,5 inch) deep. Cover them with sand of the same thickness as your seed.
Tip: Read our guide on planting flower seeds to see a more detailed description.

Combinations with aster flowers
You can combine the aster flowers with dahlia tubers. These flower around the same time. Cactus dahlias and dinnerplate dahlias will look beautiful with the asters.
Also plant tulips bulbs and daffodil bulbs in October or November. The daffodils will flower in February, March or April and the daffodils in April or May. To plant these different plants on a different time, ensures that you have a beautiful blooming garden for a couple months.
Our story
FAM Flower Farm is our family farm in the Netherlands. You can follow our story on Instagram, Facebook, and Pinterest. Here you can find pictures of our beautiful flowers and our farm.