Dinnerplate dahlia tubers
"Order our most popular variety here: the dinnerplate dahlia. Sent directly from our farm to your home."
The dinnerplate dahlias are also called the super dahlia or the giant dahlia. They are by far the most popular variety. The dinnerplate-sized flowers with a high fluffy content. Take one dahlia of this class and you've made your point. No one can ignore it: wow, what flowers they are! They grow at least 20 centimetres big and can hide an entire face.
Dinner plate dahlias are among the longer-growing dahlia varieties and need extra support once the plant starts growing. One option is a bamboo stick from the garden centre. With a binding wire, knot the growing plant a little further on the stick each time. Rubber binding wire is the most gentle for the plant.
TIP: Put the support in the pot at the same time as planting the tuber, then you can be sure that you won't damage or even puncture the tuber later on.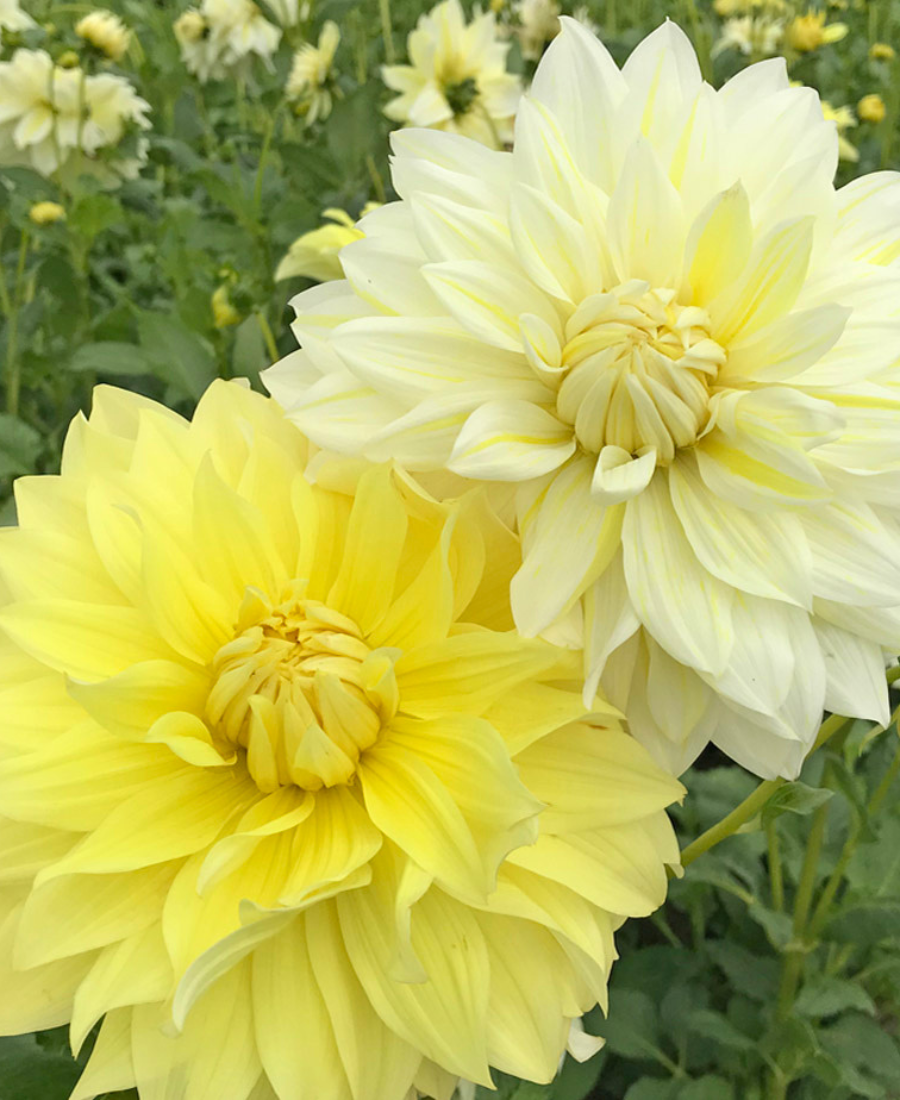 What types of dahlias are there?
There are different types of dahlias in all kinds of shapes and colours. Such as: the pompon, ball, double-flowered or single dahlias, decorative and cactus dahlia. The red dahlia and purple dahlia are beautiful colour to add in your garden.
Dahlia tubers are also called dahlia bulbs. Easily choose your favourite varieties with the filters on our webshop. Lower varieties of dahlias are perfect for pots. Higher varieties of dahlias are ideal cut flowers for cutting gardens because of their long stems with many beautiful flowers.
Some dahlias are real butterfly and bee attractors, these are the single-flowered dahlias with an open heart. The bees can easily find the flowers because of the eye-catching colours. These flowers also have a lot nectar and are otfenly scented, this attracts bees.
Combining dinnerplate dahlias
Dinnerplate dahlias are perfect to combine with other beautiful dahlias. The yellow dahlia and pink dahlia and orange dahlia make a beautiful summery contrast.
You can also combine different types of dahlias. The dinnerplate dahlia get well together with ball-dahlias or pompon dahlias.
At the same time as a dinnerplate dahlia, you can also plant flower seeds. You can plant the amaranth, zinnia, aster, delphinium, cosmos and many more.
To enjoy your garden for a longer time, you can plant daffodils and tulips in October, November or mid-December. These will flower in spring, just before your dahlias. Or favourites are yellow daffodils, white daffodils, double tulips, peony tulips, red tulips and pink tulips.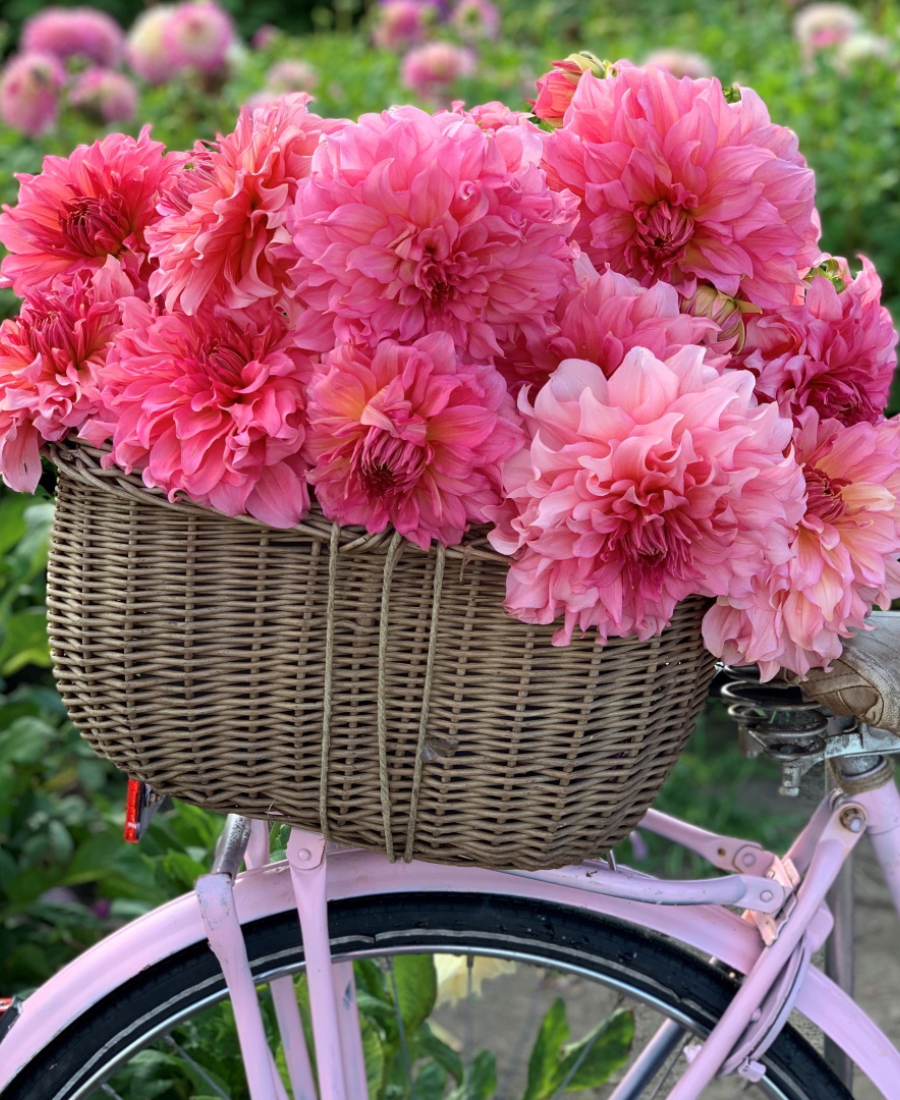 Floating dishes with dinnerplate dahlia
Cut off the stem of some dinner plate dahlias and place them in a nice tub, large glass vase or baking dish with water. The dinnerplate dahlias will float upright by themselves. Optionally, you can add some floating candles.

If you have 1 very large dinnerplate dahlia, place it on a nice plate or flat dish with a small layer of water in it, or a few in a deep bowl together. If you have a pond, you can easily float some flowers in it too.

Change the water regularly.
Follow the story of our family farm
Follow us on Instagram or Facebook, here you can follow the story of our dahlia bulbs, our farm and the seasons. Enjoy our beautiful Dutch flower fields. We also give handy gardening tips and highlight special varieties. On Pinterest, you can easily view all the beautiful tulip photos and pin them to your own board.