Pompon dahlia tubers
The dahlia pompon is often known as a very old type. But it remains to be a very beautiful and unique flower due to its shape and different colours.
Special of the dahlia pompon
The dahlia pompon is a very special flower. These flowers are spherical, well filled and the petals of these dahlias are rolled up in a sort of funnel. This gives a beautiful effect.
Around the center of the dahlia pompon are the rolled-up petals spiral. The flower is loved and admired worldwide.
The difference between a pompon and a ball dahlia is in the size. Below a diameter of 5 cm it is a pompon, above that you speak of a ball dahlia.
Mid-nineteenth century had the people seen this special dahlia. In that time people were not fan of this dahlia. They called them a football on a stick. Later, the people appreciated the flower more and more. Now is the dahlia pompon very popular.
A big benefit that these dahlias have, is that they do not suffer from the rain. While by big dahlia plants rain can be an issue.

Dahlia pompon as cut flowers
dahlia pompon also has a very long stem. This makes them perfect as cut flowers. With cut flowers we make lovely bouquets. If you plant dahlias that are great cut flowers, you can enjoy them twice as much. You can enjoy them in your garden and as cut flowers in your house or at the garden table. You can combine the different cut flowers based on what you like.
Pompon dahlia as dried flowers
Dahlia pompon is also used as dried flower. You can make them yourself. You pick the flower you want to dry. Then hang the flowers upside down, this way they can dry.
It can take from 1 until 8 weeks for the pompons to dry. This is because of the different circumstances of the place where they dry. If the flowers look dry, you can put them in a vase filled with water. If they stay uright, they are dry. If they bend, you have to dry them a little longer.
Beautiful combinations
The pompon dahlia Zippity Do Da has a beautiful pink colour and is beautiful to combine with other shapes and colours of dahlias. For example red dahlias or purple dahlias. This gives a low contrast and exudes love, admiration and passion.
Dahlia pompon is also called pom pom dahlia or pompom dahlias. A lot of people think that it is called that way, but it is pompon. Dahlia pompon is planted from tubers in a garden or pots.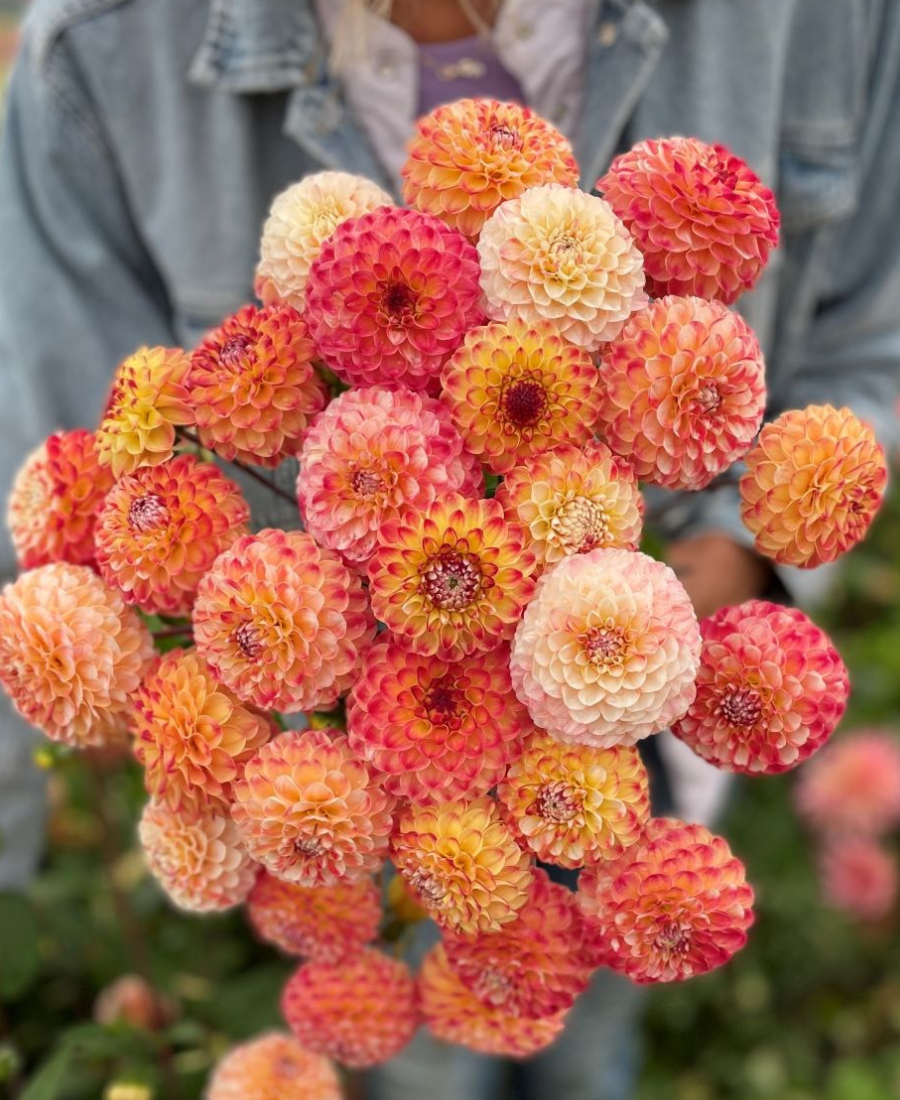 Buying pompon tubers
You can buy the pompon dahlias from January 1 until June 1 on our webstore, FAM Flower Farm. You can choose when you want to receive the dahlia pompon. You can choose a little earlier, so you can plant them in pots first. Or you can choose to receive them in May or June, so you can plant the straight away in your garden.
When flower pompon dahlias?
Pompon dahlias flower from spring until the first night of frost. The tubers are not perennial, they cannot survive frost. If you also want to enjoy your pompon dahlias next year, you best can store the tubers in a dry place. You can plant the tubers again in spring, when the chance of frost is over.