Peony tulips
Tulip bulbs are world-famous and a symbol of the Netherlands. The best-known tulip is probably the single tulip. But did you know that there are many more varieties of tulips? The double tulip, parrot tulip, fringed tulip and the special peony tulip.
The difference between peony tulips and double tulips
In a nutshell, all peony tulips are double tulips, but not all double tulips are peony tulips. Still following along?
The peony tulip has large petals and resembles to the peonies. Besides, the double flowers peony tulip smell as nice as peonies. Therefore, they are called peony tulips. We sell early- and late-blooming double tulips and thus peony tulips.
What is a peony?
A peony is a plant that blooms with large, bulbous flowers. It is also called ranunculus. The best-known peony is the peony rose, but there are also peony tulips! Peony tulips not only give your garden beautiful colours, but they are also useful. The flowers provide bees with pollen and nectar, which is essential for biodiversity.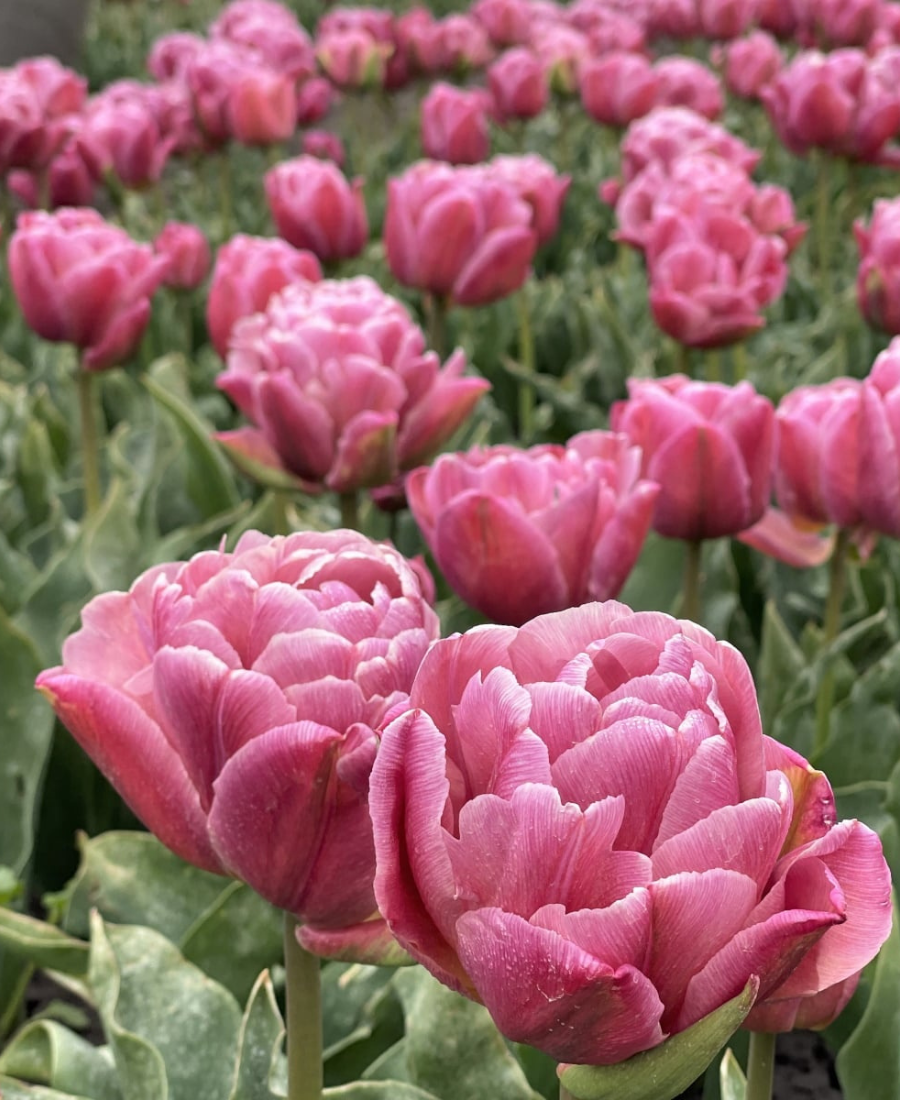 Types of peony tulips
The peony tulip stands for love and happiness. That also makes this special tulip fun to give as a gift. Our range includes pink tulips and orange tulips, such as the Drumline. This tulip is pink and has a beautiful white edge. The stems are darker green than stems of other tulips.
A popular peony tulip is tulip Angelique. This tulip flowers precisely early in spring, which makes it a special peony tulip. Tulip Angelique has different shades of pink and is perfect for the pot, in the garden and as cut flower.
When to plant peony tulip bulbs?
You can buy tulip bulbs from July to December at FAM Flower Farm. Plant the bulbs in October, November or mid-December. The tulips flower around May and bloom for a relatively long time. At the same time as tulips, you can also plant daffodils (narcissus). Plant beautiful white daffodils or yellow daffodils.
If you replace the bulbs with dahlia tubers or flower seeds after flowering in mid-May, you can enjoy flowers in your garden for up to 8 months. Plant beautiful red dahlias, white dahlias, dinnerplate dahlias or the amaranthus, aster or zinnia flower seeds to make your garden a party in summer.
Are peony tulips perennial?
Once the tulips have finished flowering, you can choose to leave the bulbs in the ground. But since tulips are not perennial, the chances of flowers coming out are slim. However, smaller flowers may bloom. The best thing you can do is remove the bulbs from the ground and plant new ones.

Peony tulips in vase
Some peony tulips are also suitable as cut flowers. That means you can cut them off and turn them into a bouquet. Beautiful to put in a vase in your home.
Cut the tulip at an angle and put them in a clean vase. Combine with different tulips or other cut flowers for a playful bouquet.
Buy tulips from a grower
Our tulip bulbs are grown in our own farm. Would you like to buy peony tulips? Order them easily on our website and receive the bulbs at home when it's time to plant them. Did you know that our dahlia tubers and daffodil bulbs also come from our own farm? You can even drop by sometime to see our flower fields.
The story of our farm
Curious about our farm? Follow us on Instagram or Facebook for the story of our tubers, bulbs, seeds, our farm and the seasons. See our beautiful flower fields, get useful gardening tips and discover special varieties. On Pinterest, you can easily view all our photos and pin them to your own board.