Zinnia seeds
The zinnia flower is a real addition to your garden and they are also very easy to grow. All our flower seeds are annuals. Within one season they grow from a small seed into a mature plant with flowers.
History of zinnia flowers
The zinnia flower is a member of the Asteraceae or sunflower family and is native to Mexico.
Zinnias were named for Johann Gottfried Zinn, an eighteenth-century German botanist who specialized in medical plants. Zinnias became popular garden flowers in the 19th century because of its wide range of colours and its ability to bloom even during hot summer weather.

How to plant zinnias
Zinnia flowers are easy to grow. The plant prefers full sun and well-drained soil. So make sure the flower can get a lot of sunlight and enough water.
Sow the seeds about half an inch deep and about 12 inches apart (this is around 30-31 centimetres). This will give them enough room to grow and to extract water from the ground.
Take care of zinnia seeds
Water the plant when the soil is dry to the touch. If the soil still feels wet, the zinnia seeds don't need water yet.
Zinnia flowers like full sun, so make sure they get preferably six to eight hours of sunlight per day. Best is to fertilize the zinnia seeds every four weeks with an organic fertilizer or with lava flour. This improves the soil and strengthens the plant.
You can pinch back the plants to encourage bushier growth. Deadhead the zinnias, you do this by cutting off dead flowers regularly. This keeps the plants blooming.
Watch out for slugs and other insects. Slugs aren't specific in choosing what plant they want. You can use copper tape to prevent that the snails and slugs eat the flowers. If snails or slugs walk on the tape, they get a chock. This ensures that they go away immediately and won't come back.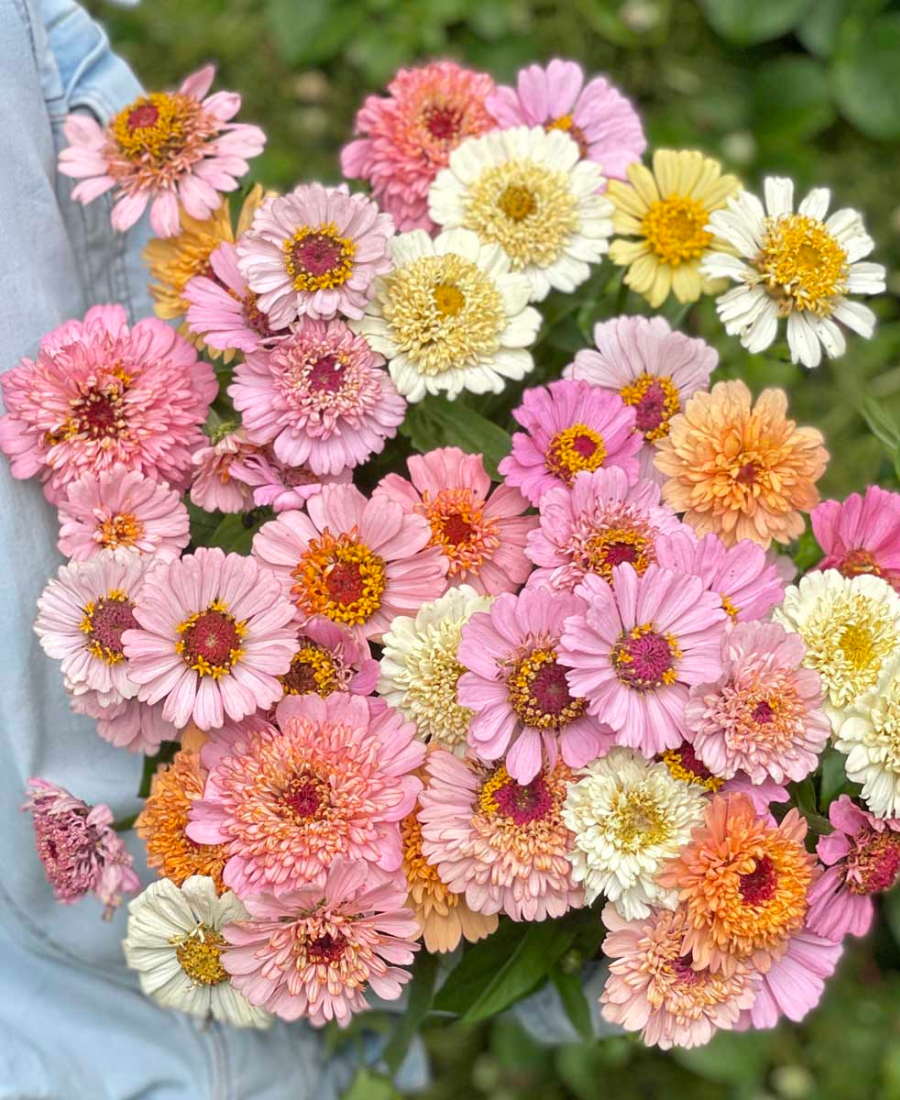 When do zinnias flower
You can plant the zinnia seeds when the chance of frost is over. This is often around half may. They will flower from July until September. At the same time as zinnias, you can plant dahlia tubers, these will flower in July and etc. These two look beautiful together.
In October until half December you can plant daffodil bulbs and tulip bulbs. The daffodils flowers in February, March or April and the tulips in April or May. This until the first night of frost in October or November.
Different combinations
We sell zinnia flowers with orange, green and pink colours. You can combine the different zinnia flower colours with each other. You can also combine the zinnia seeds with dahlia tubers. Pink dahlias, white dahlias and yellow dahlias have beautiful colour to combine with the zinnias.
FAM Flower Farm
Buy flowers seeds online at FAM Flower Farm. You can also follow us on Instagram, Facebook and Pinterest. You can see our beautiful pictures of our flowers and our farm. You can visit out farm in Lisse, in the Netherlands.