Pink tulips
"Buy pink tulips from our own farm for endless combination possibilities. With an easy home delivery too."
Pink is our favourite colour for a reason: it is the colour that makes you happy and calm. It represents softness and sweetness. Pink tulips are one of our popular products because pink tulips have endless combination possibilities! In fact, pink combines well with both hard colours and soft colours; with red tulips, orange tulips, yellow tulips, purple tulips and white tulips as well.
Why are pink tulips so popular?
The pink tulips also symbolise mother's love and coincidentally, the tulip also blooms on Mother's Day! The pink tulip Milkshake is suitable as a cut flower and therefore the ideal Mother's Day gift. It may not surprise you much that women in particular love tulips pink. The fondness for pink can be traced back to our past as hunters and gatherers. Women had the job as gatherers and mainly looked for ripe fruits. The ripe fruits mainly had reddish hues. So that's why we women love pink so much! And why do women love tulips? In fact, everyone loves tulips, millions of tourists - both male and female - travel to our little country to admire them. Not only is it a beautiful flower, but it also has a wonderful meaning: love!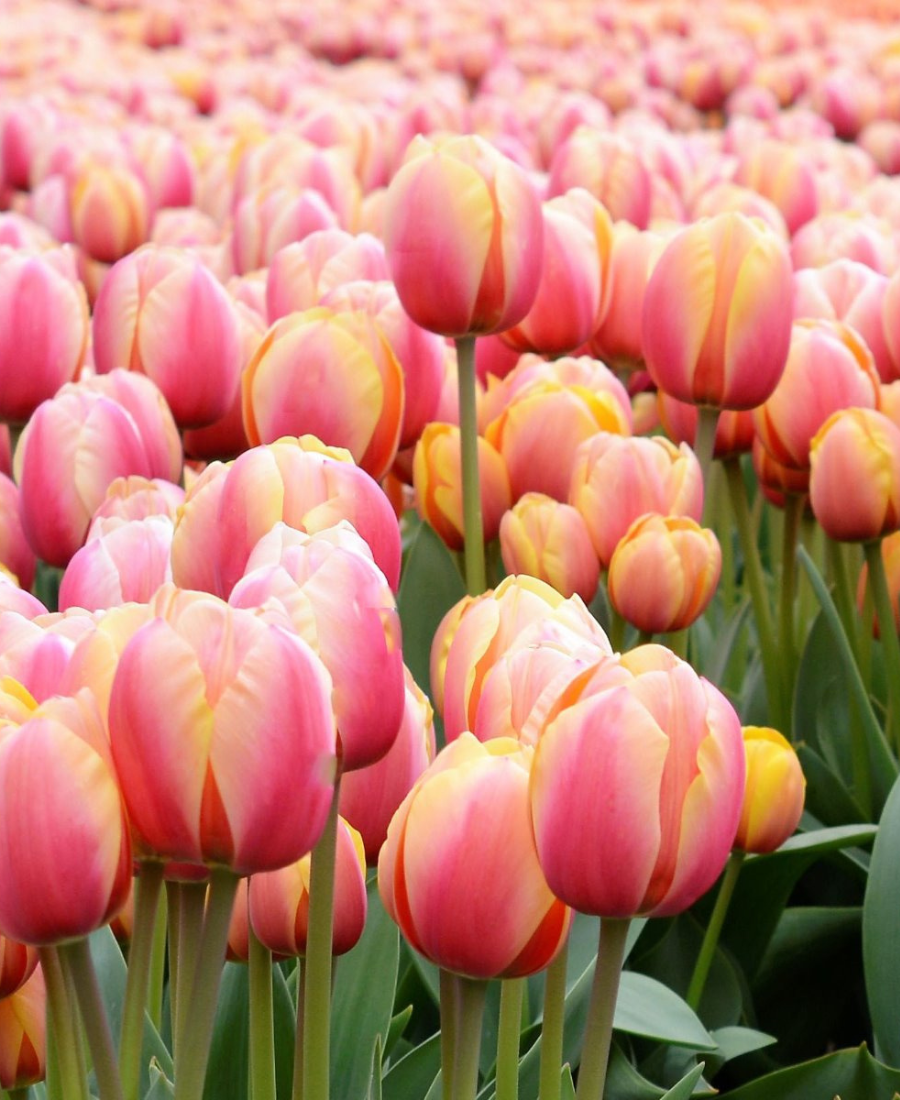 Different pink tulips
Whatever you love, a pink tulip is bound to suit you. In fact, there are many kinds of tulips pink: from pale pink tulips to bright pink tulips.
Take the romantic light pink tulips Mariage, for example. Beautiful in your garden, but also great in your bridal bouquet. If you want to give your garden a good colour boost, the pink tulips of Taiwan are ideal. This tulip pink has the perfect pink colour and is also a double tulip.
Do you like pink as a colour, but don't want it too eye-catching? Then the Blushing Parrot might be for you. This tulip is cream in colour with a subtle pink blush. The Blushing Parrot is unique and exclusively available from us.
Buy pink tulips
At FAM Flower Farm, you can easily buy pink tulips by ordering them online. You can buy pink tulips from 1st July. You will receive the pink tulip bulbs from October to mid-December, as that is when it is time to plant the pink tulips. The tulip bulbs are grown in our own farm in Lisse, the Netherlands.
Did you know that you can also buy narcissus bulbs, dahlia tubers and flower seeds from us? So, you can easily create a beautiful flower garden.

When to plant pink tulip bulbs?
All tulip bulbs love the cold; they need it to flower. Therefore, plant them during the cold months. If you plant the tulips pink in October or November, they will flower in April to May. It may be a little earlier or later, which varies from year to year.
Note: Do not plant the tulip bulbs after 15 December, because then, due to the frost, they cannot make their roots.
Can tulip bulbs be potted?
If you don't have a (large) garden, you can also choose to plant the pink tulips in pots. You can plant quite a few, as tulips are also perfect as cut flowers. So, you can always give away a nice bunch of pink tulips or put them in a vase at home.
Follow the story of our farm
You can follow our story on Instagram and Facebook. Here you can see the story of our flower farm. We give some gardening tips you can use to make your garden perfect. On Pinterest, you can easily view all the beautiful flower pictures and pin them to your own board.