White tulips
"White tulips attract attention you your border. They symbolise light and goodness."
White tulips are wonderfully beautiful and very chic. Especially the snow-white tulip Noordeinde with its fringed petals. This late spring bloomer looks nice and fresh in your garden. It is a very pretty dessert for your garden in late spring. The white tulips immediately attract attention and admiration in the border. Ideal, therefore, if you want to add something special to the back of the garden border.
The colour white
White is considered the colour of perfection, also associated with light, goodness and purity. For this reason, brides wear a white dress when they get married. White is the only colour that does not stimulate our senses, but it opens the way for new creations. In fact, painters always start with a white canvas too.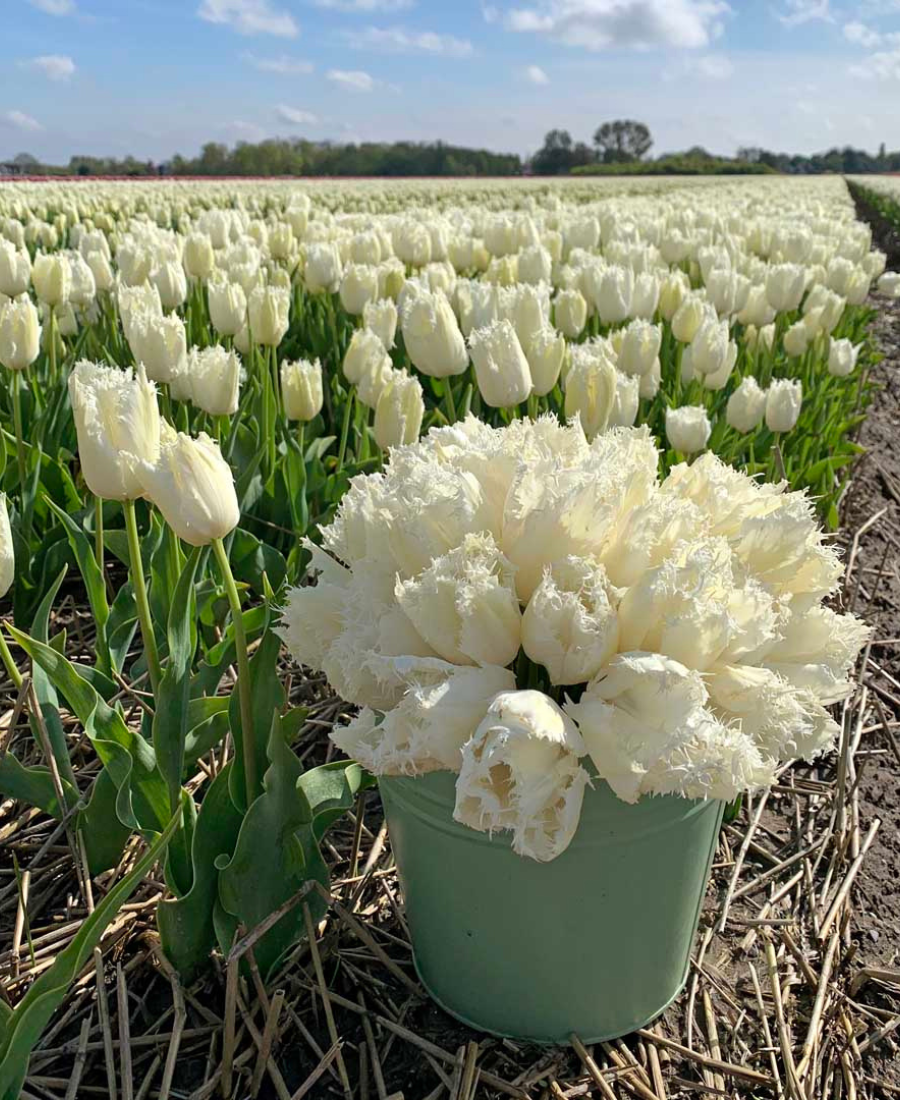 Popular white flowers
White flowers are very popular, our white dahlias and white daffodils are also very popular. Especially the double-flowered daffodil, Bridal Crown with its fresh white colour and the dinnerplate dahlia called Cafe au Lait are by far the most popular flowers in our range.
Meaning of white tulips
The white tulip represents forgiveness. These flowers are perfect to give when you want to say sorry or forgive someone. In addition, of course, white tulips are also simply beautiful. After a long winter you long for spring. The pleasant temperatures and the first rays of sunshine already give you the first wonderful feeling of spring. Naturally, white tulips complete the spring feeling. All tulip bulbs are grown in our own farm in Lisse, the Netherlands. You will receive a large-sized tulip bulb from us so that you can expect beautiful, full tulips.
Different tulips
We have one white tulip in our range: tulip Noordeinde. This white tulip has fringed petals and has a beautiful, fresh colour. Besides a white tulip, we also have other colours of tulips in our range, such as red tulips, pink tulips, orange tulips, yellow tulips and even purple tulips! Each colour has both single and double tulips, single or multi-coloured and fringed tulips.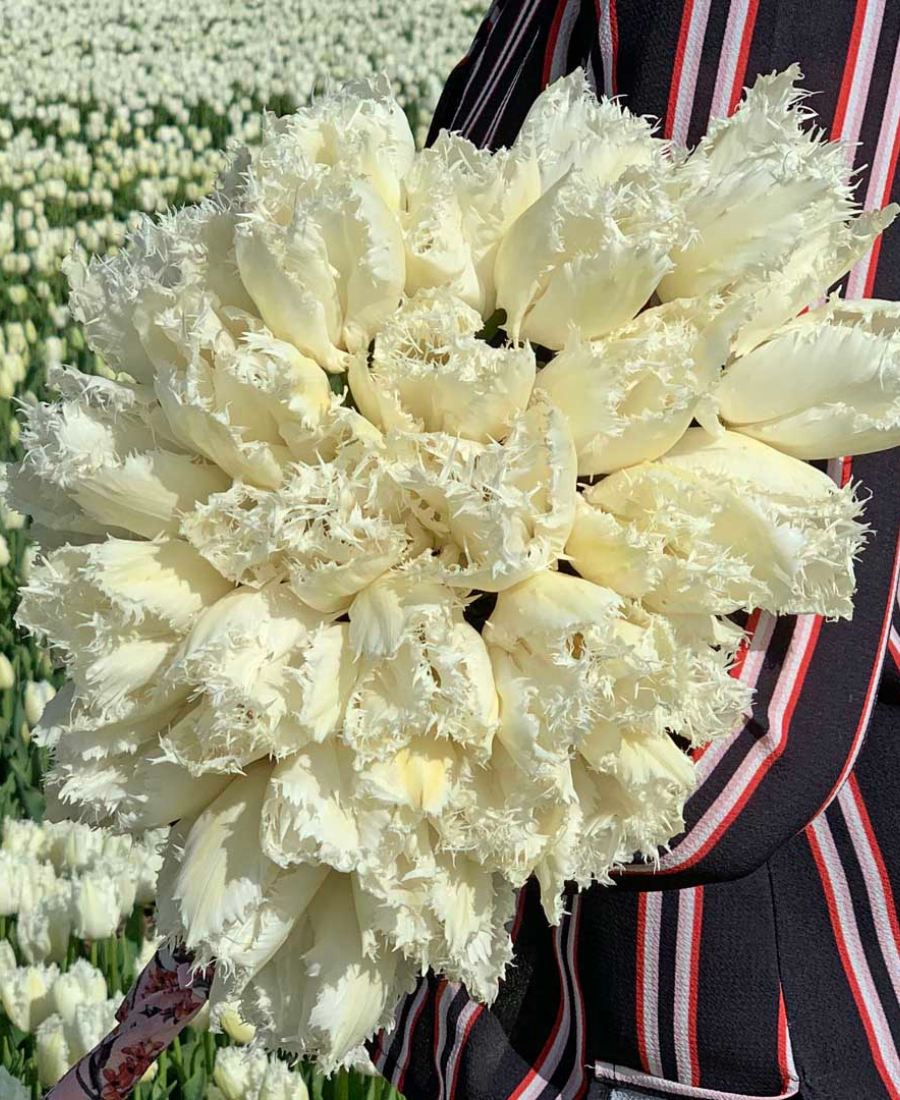 Ordering white tulip bulbs
White tulip bulbs are for sale from 1st July to early December (online) at FAM Flower Farm. The tulip bulbs are grown at our own farm and will be delivered to your home when it is time to plant the bulbs. This is from October until 15 December. The tulips will flower in spring. This is usually in April to May, but this varies from year to year.
Other flowers from FAM Flower Farm
So we have all kinds of different tulip bulbs in our range, but did you know we also sell daffodils, dahlias and flower seeds? With these, you can turn your garden into a beautiful field of flowers. With these different types you can enjoy your garden for 8 months in a row!
Can tulip bulbs be potted?
Certain flower bulbs also do very well in pots. Plant lots of them, as tulips are suitable as cut flowers. You can cut off some flowers and put them in a beautiful vase. This way you can enjoy them in your house too.
The story of our family farm
Follow the story of the tulip bulbs, dahlias, flower seeds and narcissus on Instagram of Facebook. Here your find beautiful pictures, handy tips and much more. On Pinterest, you can easily view all the beautiful flower photos and you can pin them to your own board.