Yellow tulips
"Buy the finest yellow tulips from a family farm at FAM Flower Farm"
Could you use some optimism and energy? Then the yellow tulip is perfect for you! Yellow symbolises sunshine, happiness and fun. Yellow tulips are true spring flowers and very popular, and not only during Easter.
Yellow tulip varieties
There are different varieties of yellow tulips. From yellow-green tulips to red-yellow tulips: we have it all in our range.
The yellow tulip Esprit is available exclusively at FAM Flower Farm. This tulip has a double flower and has a beautiful, pink glow. The edges of this new tulip are fringed. The special thing about this tulip is that the colour changes during flowering. So, a spectacular flower!
The Greenmile tulip's green-yellow colour makes it a special appearance. This tulip is beautiful on its own, but also combines well with your favourite flowers. In addition, this yellow tulip blooms super long, so you can enjoy it for a long time.
The Rambo tulip is red yellow and tough. Thanks to its sturdy stems, these tulips can take a beating in the wind. The yellow edge of this tulip red yellow gives a fresh look. Because of the sturdy stems the flower grown very high. You can use this tulip also as cut flowers in your home.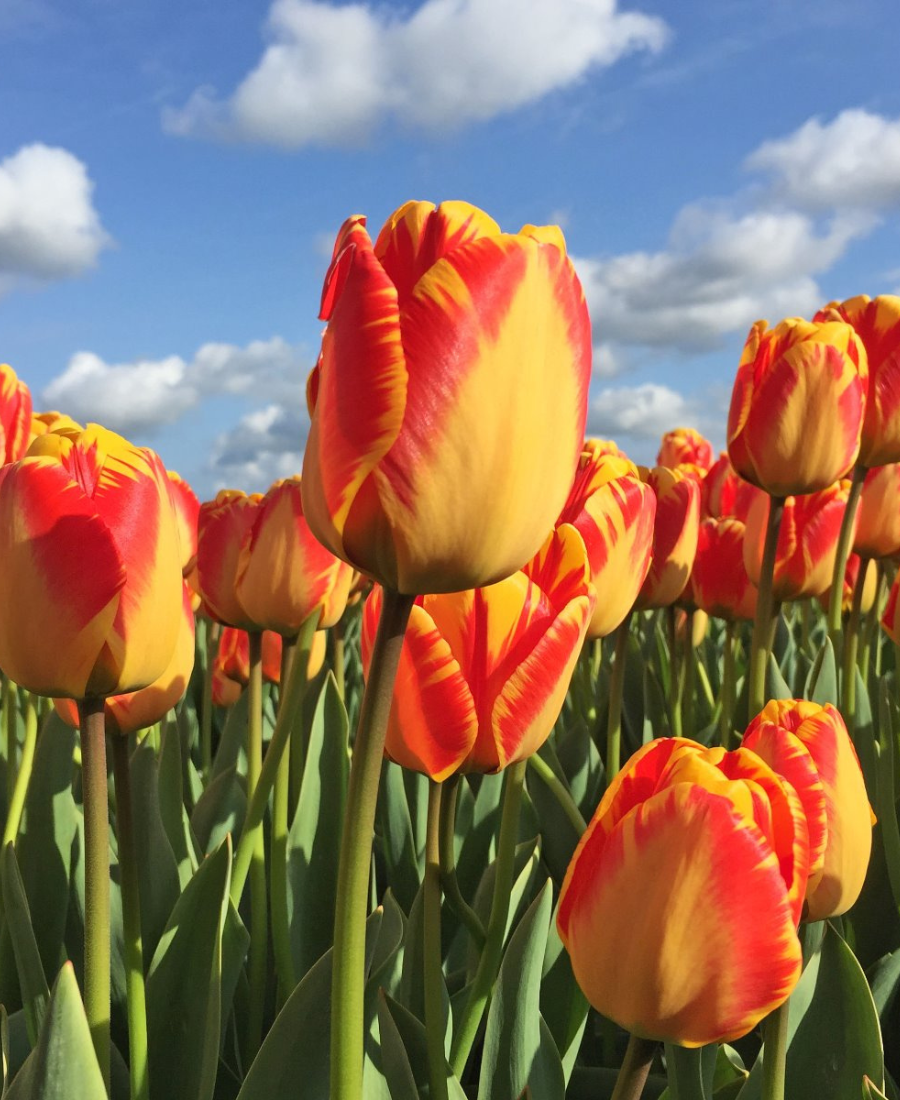 When are yellow tulips on sale?
Yellow tulips are available from 1st July and you can buy them until early December. Did you know that all yellow tulips are grown in our own farm in Lisse, the Netherlands? You can even drop by!
When should I plant yellow tulips?
Tulips love the cold, so plant them in October, November or December. Make sure not to plant them too late, because after 15 December the tulip bulbs cannot make roots properly before the frost. It varies from year to year when tulips bloom. Usually, tulips flower in April to May.
How should I plant tulips in yellow?
Before planting the yellow tulips, it is important to loosen the soil in the place where you want the tulip to grow. Then dig a hole about 15 cm deep and place the tulip bulb in it with the tip up. Plant the next tulip bulb 15 cm away. Close the hole again and press firmly. Immediately water the yellow tulips so that they root faster. This also protects them from rain or cold. Once the tulips have flowered, we recommend taking them out of the ground again. This is because tulips are not perennial.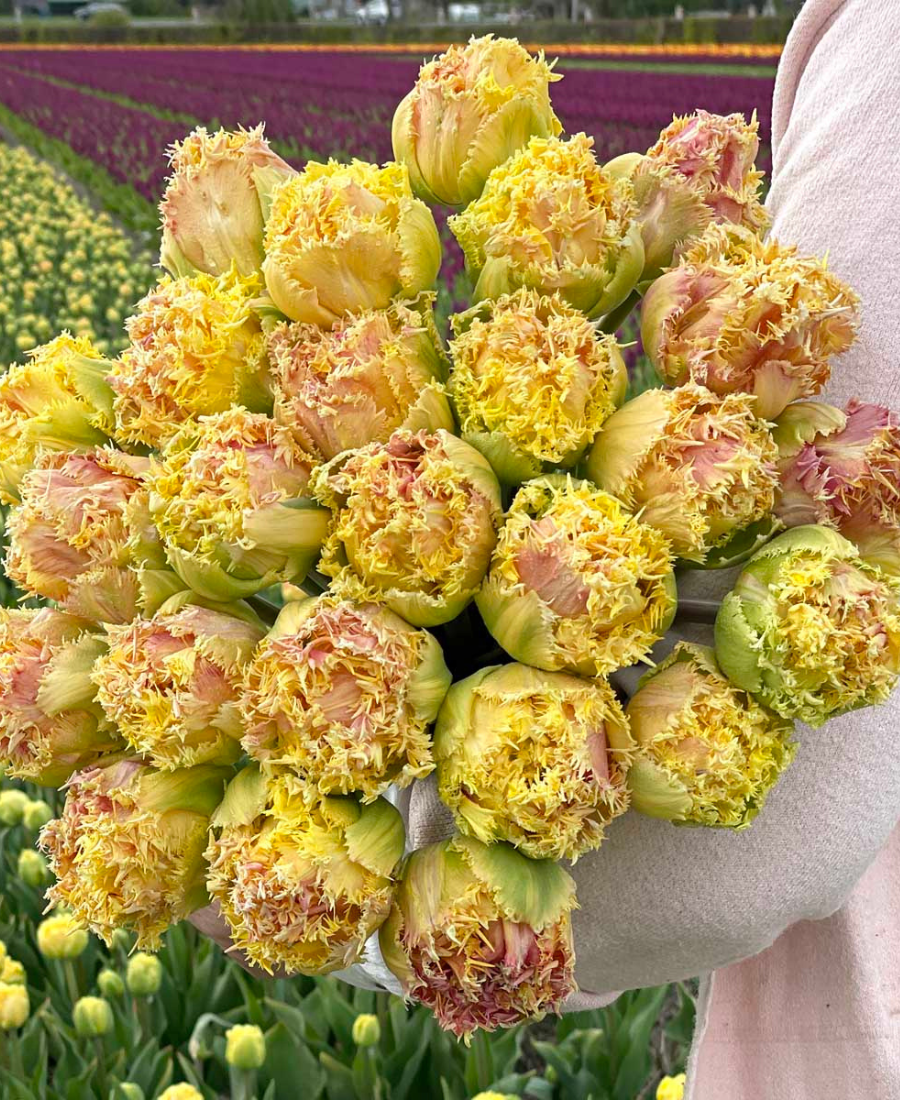 Can yellow tulips be potted?
If you don't have a garden, you can also plant tulips in pots. However, it is important to use the right kind of tulip. The easiest tulips to flower in a pot are low-growing tulips, but you can also plant yellow tulips in a pot. If you choose to do so, we recommend using a large, deep pot. This is because the pot should be 3 times the height of the bulb.
Other tulips
Besides yellow tulips, red tulips are also very popular. Orange tulips are extra nice to put in a vase during King's Day. You will also find pink tulips and white tulips in our range! A purple tulip makes your garden stand out. Double tulips are perhaps one of the most special tulips.
The story of our family farm
Follow us on social media @famflowerfarm to keep up to date with our farm, the seasons, garden tips and enjoy our beautiful Dutch flower fields.