Purple tulips
"Buy exceptional purple tulips from our family farm and make you garden stand out. "
Purple tulip meaning
Purple represents spirituality and tranquillity. It is also seen as an elegant, royal colour. When you give purple tulips to someone, you are wishing them peace in their life. Besides, purple tulips are also very special tulips. So nice to give and to grow yourself.
Types of purple tulips
Purple is a colour that occurs in various shades. Dark purple tulip Paul Schrerer, for example. This tulip is so deep dark purple, it almost looks black. Did you know that real black tulips don't exist? Growers have tried for years, but so far they haven't succeeded.
If you are not a fan of dark purple, the unique tulip Crunchy Cummins might be for you! This purple-pink, fringed tulip changes colour as it blooms. You can find this tulip exclusively at FAM Flower Farm.
There are also different tulips, such as single tulips and double tulips. The dark purple/dark red tulip Jinan is a beautiful peony tulip that also blooms super long. An asset to any garden!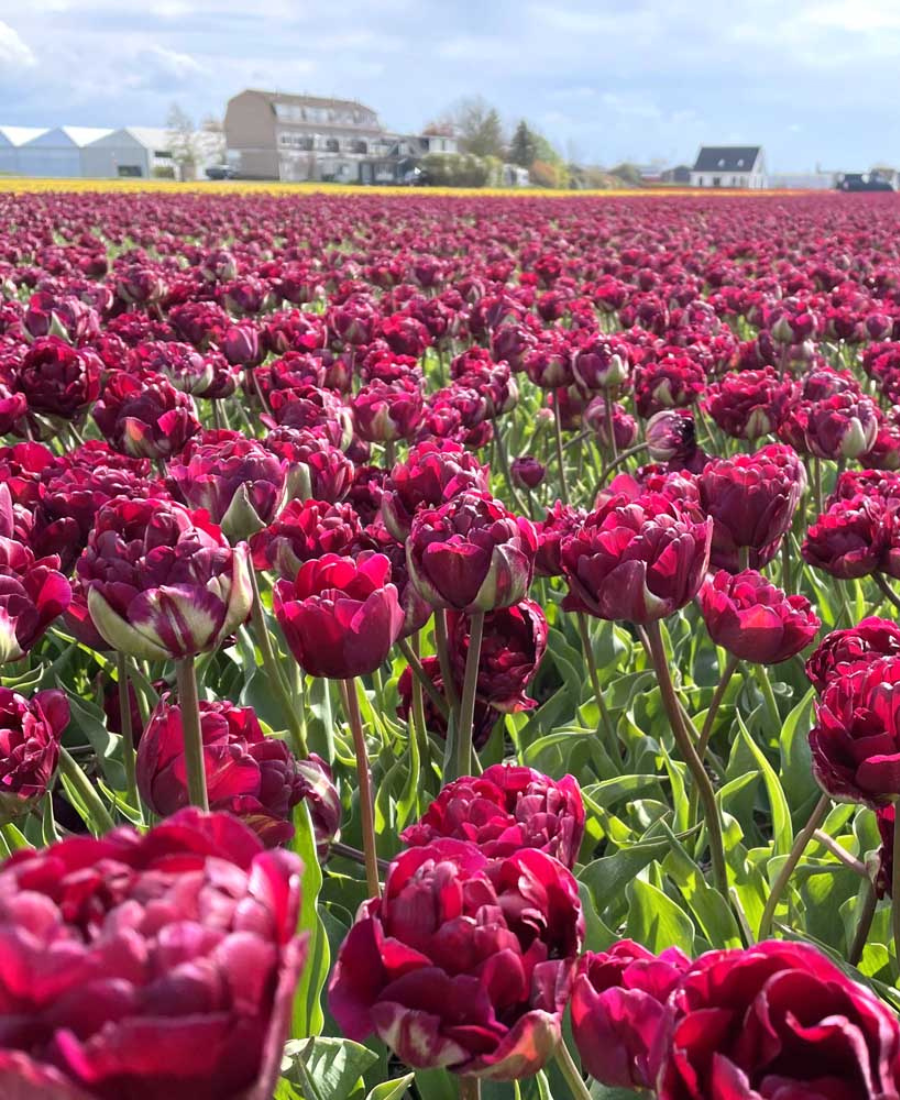 Other colours of tulips
You can of course choose to plant only purple tulips in your garden, but you can also combine them with other colours of tulips! For example, combine purple tulips with white tulips, pink tulips, orange tulips, yellow tulips or red tulips. Or combine the tulips with dahlias, flower seeds or daffodils. This way, you turn your garden into a flower feast, which is also good for nature.
Daffodils flower just before tulips. You can plant them at the same time to have flowers in you garden the whole spring. Think of the dahlia Fuzzy Wuzzy,
Planting and caring for tulip bulbs
Planting and caring for tulips is not difficult: plant the tulip bulbs about 15 cm deep and apart in the soil in October or November and water the surface a little. Make sure the tulips are in a place where they can flower in (full) sun. Water the bulbs in autumn, especially if it has been dry for a long time. Once the tulips have flowered, you only need to water them if it has been dried for a long time.
Can tulip bulbs be potted?
You can plant tulip bulbs in pots. It is easiest if you choose low-growing tulips, so they stay put in strong winds. If you plant the bulbs in a pot, make sure you choose the right pot: it should be deep enough and have a hole at the bottom. It has to be at least three times the height of the tulip bulb. When planting potted tulip bulbs, the bulbs do not need to be planted 15 cm apart, but 5 cm apart. This allows you to plant extra many bulbs for a colourful result.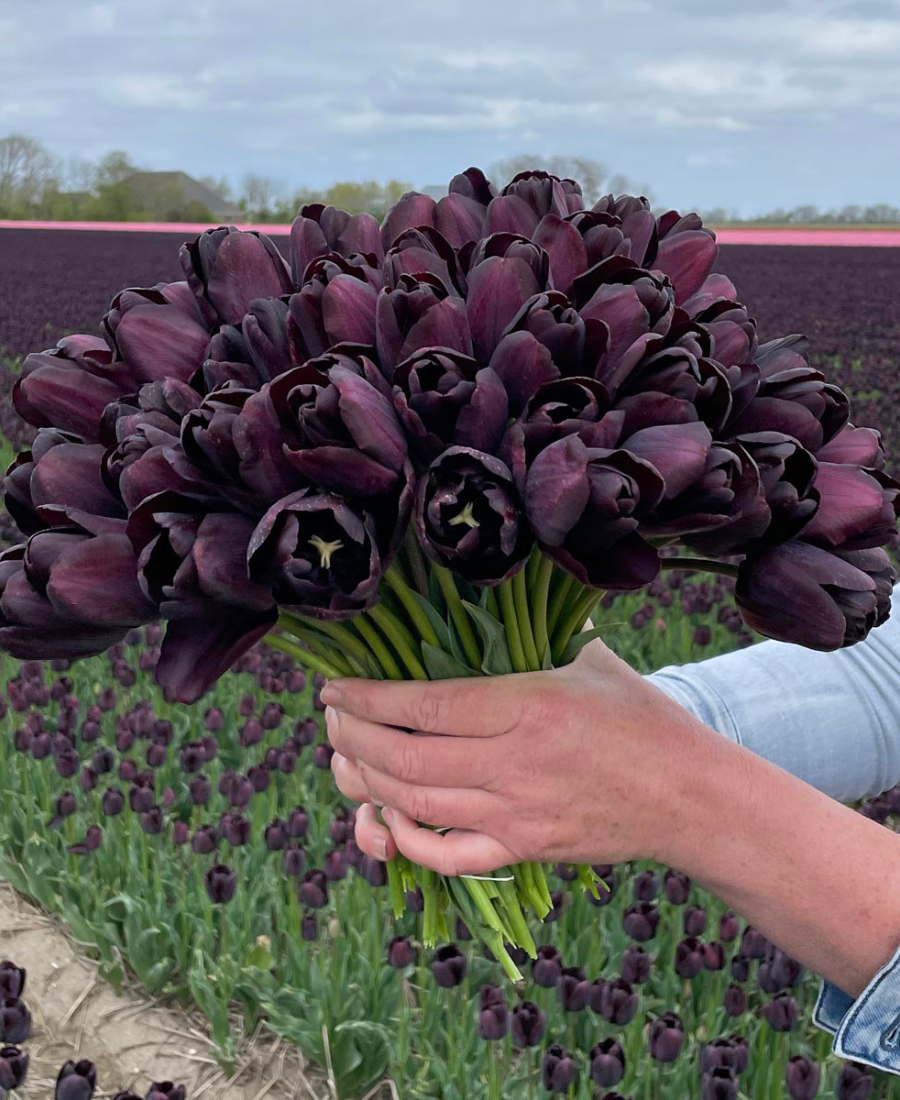 Tulip bulbs in a vase
Leave the tulips in your garden or cut them off and put them in the house as cut flowers! Cut the tulip stems at an angle and put them in a clean vase. Do not put the vase of flowers near ripening fruit, nor put them in a draughty place or full sun (or another warm place).
Ordering purple tulip bulbs
You can buy purple tulip bulbs from 1st July until early December at FAM Flower Farm. The tulip bulbs are all grown in our own farm and will be delivered to your home when it is time to plant the bulbs.
Follow the story of our family farm
Are you curious about the story of our tulip bulbs, our farm and the seasons? Follow us on Instagram or Facebook @FAMFlowerFarm. Enjoy the beautiful Dutch flower fields and stay up to date with the most useful garden tips and combinations. On Pinterest, you can easily view all the beautiful tulip pictures and pin them to your own board.