Cut flowers from FAM Flower Farm
Cut flowers are basically flowers that you grow in your garden and then cut to make bouquets. Give your home-made bouquets as gifts, for example, or put them in a vase in your home. How nice that those flowers just come from your own garden? You will not only add some colour to your garden, but they will also look great in your home.
Cut flower varieties
Cut flowers are not a specific type of flower. With us you will find various dahlias, daffodils, tulips and cut flower seeds that are suitable as cut flowers.
Dahlia cut flowers
An example of a dahlia cut flower is dahlia El Santo: a pink dahlia with a sweet look. Or how about the yellow dahlia: Jowey Martina? This unique dahlia adds just a little something extra to your interior (and garden!). A very favourite of ours is the Cafe au Lait, a beautiful dinnerplate dahlia. It is a creamy white dahlia, sometimes even a little pink.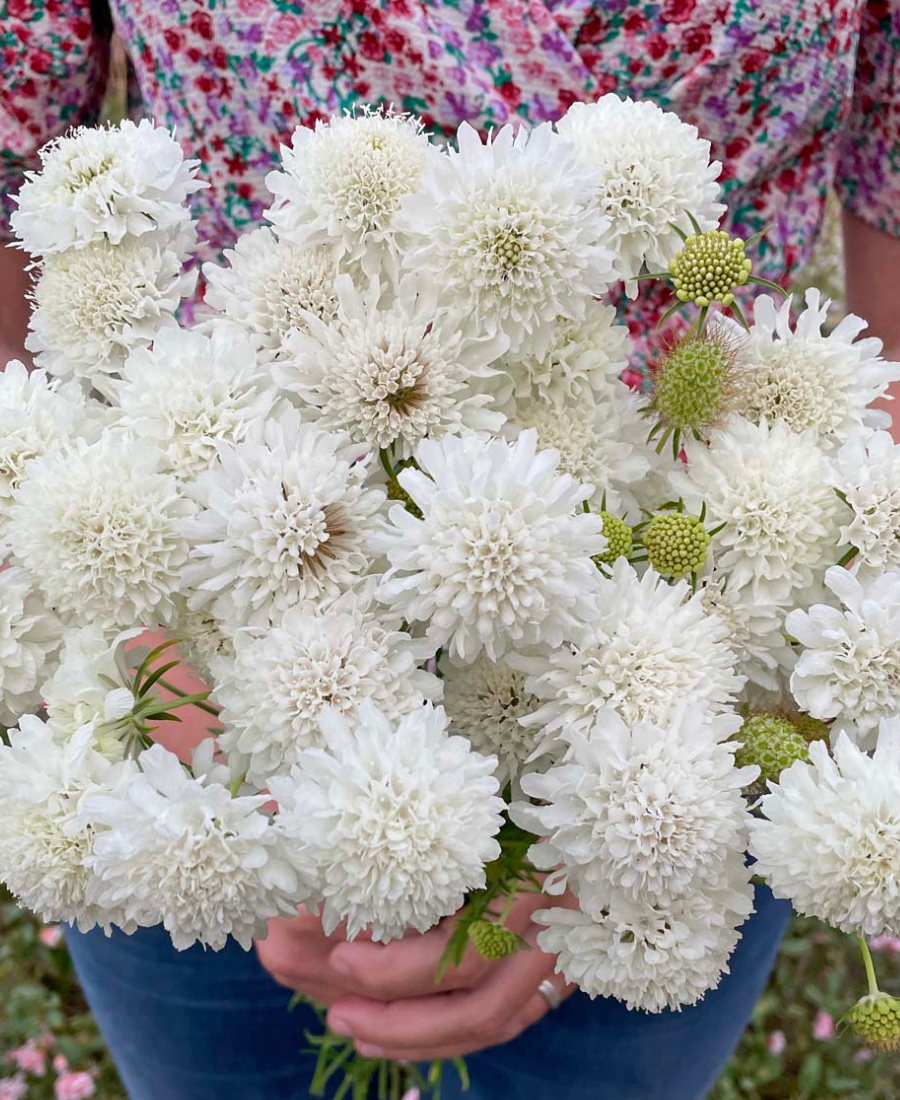 Daffodils cut flowers
Daffodils smell lovely when they are in your home. Just make sure not to put daffodils in a vase with other flowers right away. This is because the slime from daffodils can be harmful to other flowers. Will you go for the typical Martinette daffodils or the special Acropolis?
Read our blog about mixing daffodils with other flowers to see why daffodils can be harmful to other flowers.
Tulip cut flowers
We offer tulips in various colours and shapes that are also suitable as cut flowers. The popular peony tulip Angelique, for example, is beautiful to have both in the garden and at home.
Cut flower seeds
It is extraordinary how fast flowers grow from tiny cut flower seeds. They are ideal for filling bare spots in your garden. And for most varieties they re-sprout and flower. All flower seeds we sell are cut flower seeds, they are suitable for putting in a vase. Most cut flower seeds are annuals, so you can plant new varieties of flowers in your garden every year. We sell a lot of different varieties, such as the cosmos flower, amaranth, phlox and delphinium.

Cut flower seeds in the garden
When you plant cut flower seeds in the garden, you are creating your own picking garden. That may sound very complicated, but the flowers in our range are also for people with not very green fingers. However, it is important to choose a good spot for your picking garden: there should be enough sun for the flowers during the day. We also recommend setting up an area of your garden especially for a picking garden, so that you can easily pick them. This doesn't have to be a large area at all: a container on your balcony can hold a lot of picking flowers.
Cutting flowers
When the flowers are ready to harvest, you can cut them at an angle with a sharp and clean knife. By cutting the flowers at an angle, they can drink enough water and fungi and bacteria have less chance. Put the flowers in a clean vase and add a drop of chlorine if necessary. That way, your flowers from your garden can also be set at your home!
Follow the story of our family farm
Meet our FAM family, take a look at our farms and enjoy a daily dose of floral happiness. Follow us on Instagram or Facebook for more garden tips and flower inspiration. You can also follow us on Pinterest. Pin your favourite photos on your own bord and create your own flower moodboard.